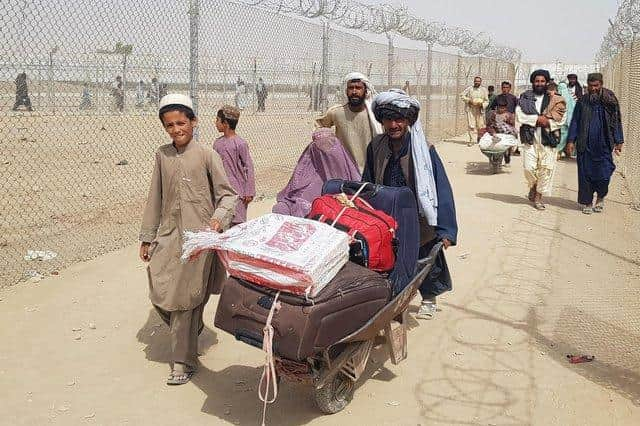 Afghans raced to flee the country at the weekend as the Taliban stormed to power. Getty Images.
An emergency meeting was held on Tuesday to discuss the situation that has unfolded so rapidly in Afghanistan, where the Taliban have swept across the country after international troops, including from the UK, pulled out.
The leader of Falkirk Council, Cecil Meiklejohn, said: "The scenes of people fleeing Afghanistan fills me with great sadness.
"A meeting took place this week to discuss the emerging humanitarian crisis and preparations are being made to welcome two families to the Falkirk area as soon as possible."
On Sunday, the Taliban took control of Afghanistan's capital Kabul, bringing an end to the two-decade campaign from the US and allies to try and transform Afghanistan since the last Taliban rule.
Scenes from the country have shown panic and desperation, with videos of people trying to grab hold of airplanes and running to board flights out of the country.
West Lothian also stands ready to offer sanctuary to refugees fleeing the Afghanistan in the wake of the lightning takeover by the Taliban following the collapse of the government. A spokesman for West Lothian Council said no direct request for help had yet been made. The council previously provided homes for some of the 2,000 plus Syrian refugees who fled the civil war in that country.
A West Lothian spokesman said this week: "We have experience in supporting refugee resettlement and will seek to support those humanitarian efforts where we are able to do so. We note that the UK Government is planning to set out details of the resettlement scheme in due course and we will assess our local plans once we have further details."
And Edinburgh City Council leaders say they are 'committed' to helping 'those fleeing for their lives' from Afghanistan.
Council leader, and SNP councillor for Leith, Adam McVey, said: "Nobody can fail to be shocked and appalled by the news coming out of Afghanistan and as a city we stand ready to help in whatever way we can.
"We are in contact with the UK Government and are developing plans for how best we can offer support.
"We hope to be in a position to confirm the level of Edinburgh's involvement very soon. We will continue to work rapidly with partners in the City to ensure that support for those fleeing for their lives is in place."
Depute council leader, and Labour councillor for Forth, Cammy Day, said: "Edinburgh has a long and proud history of welcoming people escaping desperate circumstances such as this.
"We will engage with the UK and Scottish Governments and are committed to doing everything in our power to help those fleeing Afghanistan during this turbulent time."
More than 2,000 former Afghan staff and their families have already arrived under the existing Afghan Relocations and Assistance Policy (ARAP) since June. The UK government has committed to provide homes for 20,000 Afghans in the next five years-including 5,000 this year.
In May, COSLA leaders agreed to support the UK Humanitarian Programme that was anticipated in terms of people expected to leave Afghanistan.