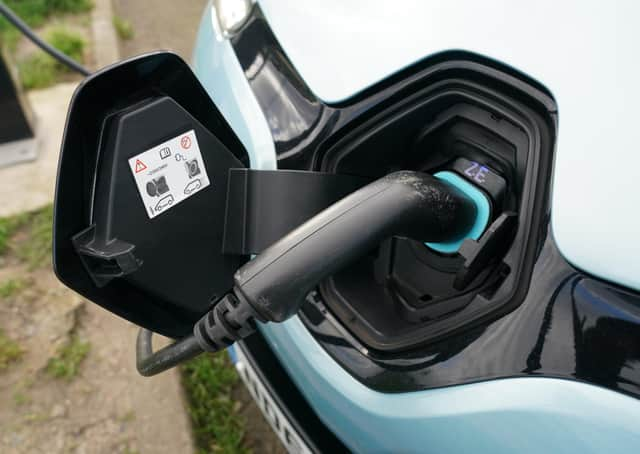 There were just 27 public charging devices in the area at the start of April, according to new Department for Transport data. That's a rate of 17 per 100,000 people – the lowest in Scotland, where the figure stood at 38. The area has added four new devices to its supply since the last count in October, when there were 23.
The figures show that West Lothian also lags behind, with just 41 public charging devices in the area at the start of April – 23 per 100,000 people. However, four new charging units are now in place including two rapid charging points with one each located at Bathgate Partnership Centre and Linlithgow Sports Cub and two standard chargers based at Polkemmet Country Park.
The new units are the result of an ongoing West Lothian Council project with Transport Scotland which has provided funding towards the work and contractors Swarco, to increase the capacity for charging in West Lothian.
Stock photo from last August of Scott Mathieson of SP Energy Networks and Mike Gill of Bo'ness-based digital company, Sanctus Media, at the launch of a charge point app.
Across the UK, the number rose by 19 per cent over the six-month period to just under 18,000 in April – a rate of 27 per 100,000.
Edmund King, president of the AA, said: "One of the myths we urgently need to clear up is a perceived lack in charging points. However, if drivers feel they cannot find a charge point then more needs to be done."
Better signage for the devices could make them easier for motorists to spot, he suggested, as well as finding solutions for those who want to charge their car at home but do not have off-street parking.
He added: "Encouraging drivers to make the switch to electric cars will also encourage both councils and businesses to install charging infrastructure. We believe that further incentives are required to ease the transition to lower-emission vehicles, such as cutting VAT on the sale of certain vehicles or targeted scrappage schemes."
Of the devices in Falkirk, six were 'rapid' charging points, which can crank most electric car batteries up to 100 per cent in under half an hour. West Lothian now has seven 'rapid' charging points. There were 3,100 of these across the UK in April.
The DfT data is sourced from the electric vehicle charging platform Zap-Map, which say it covers 95 per cent of publicly accessible devices.
Some units can only charge one car at a time, while others can deal with multiple vehicles simultaneously.
Steve Gooding, director of the RAC Foundation, said: "It's high time connecting to a charge point proved no more challenging than pulling onto a service station forecourt to fill up with petrol and pay with your credit card."
A DfT spokesman said: "Accessing charge points has never been easier and we want to make it easier still, with a further £10 million to install chargers.
"The Government is considering the long-term future of incentives for zero-emission vehicles alongside our consultation on bringing forward the end to the sale of new petrol and diesel cars and vans."
A Falkirk Council spokesman said: "There has obviously been a delay in providing new EV chargers due to Covid-19 as we have not been able to carry out installation works.
"We are waiting for revised timescales from our contractor and Scottish Power Energy Networks, but we are looking to restart installations by the beginning of July.
"The project is still on track to have all chargers operational by May 2021."