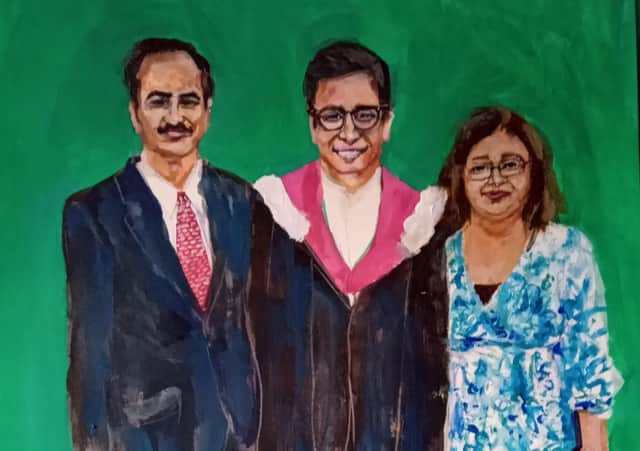 Mr Seth, an associate specialist surgeon at Forth Valley Royal Hospital is among those key workers to feature in a new exhibition by Karen Strang.
A new exhibition paying tribute to key workers during the Covid-19 pandemic features some NHS Forth Valley health care heroes.
Artist Karen Strang's portraits of key workers currently adorn the walls at Forth Valley Royal Hospital in Larbert.
The 'sitters' were nominated through Facebook by family, friends or colleagues and will each receive their portrait as a gift once the exhibition ends in September.
Since the beginning of lockdown Karen has been working on the 'Covid-19 heroes' and, after initially focusing on NHS workers, she extended her brief to include care and essential retail workers.
An ongoing project, the Clackmannanshire artist creates a painting a day, working the same hours as the person portrayed would work in a shift.
One key worker to be featured is Mr Subodh Seth, an associate specialist surgeon who works in the breast unit at the Larbert hospital.
He said: "I am humbled by the gesture made by Karen.
"It will provide very nice memories which I will cherish.
"I think this is a nice way of appreciating the efforts the NHS is making and acknowledging the contribution by NHS workers."
Others so far include Gillian Ballantyne, a nurse at Clackmannanshire Community Healthcare Centre and Sara McMillan, who runs The Kitchen in
Stirling's King Street.
An initial set of about 20 works is currently being exhibited in public areas of Forth Valley Royal Hospital.
More will appear over the next few weeks as Karen adds extra faces to the collection of stories from what is often 'Covid unseen'.
Karen said: "In these unprecedented times artists are necessary to bear witness and all of us can be artists.
"However it is the key workers who are the most important people right now.
"Lockdown gave me the opportunity to re-evaluate what was really important to all of us and to start on a fresh canvas.
"I am still in lockdown as is my studio and I miss it so much.
"I feel great privilege, a term often misused, in being able to pay tribute to these guys. They are all amazing stars."
The exhibition is being curated through the arts charity Artlink Central and each portrait is accompanied by a written interpretation including the story behind the scenes of the person featured.