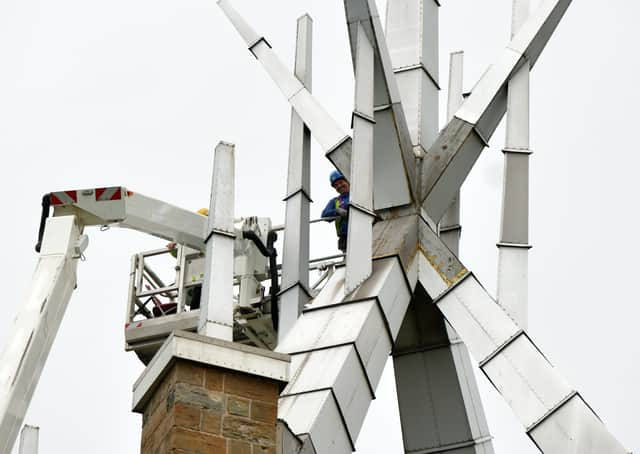 16-06-2020. Picture Michael Gillen. Views of St Michael's Church spire being repaired by Matheson Plumbing Falkirk.
The eye-catching Crown of Thorns spire has soared over the tower of St Michael's Parish Church since 1964. During that time it has become inextricably linked with Linlithgow, not least through the many town organisations that feature it in their logos.
Yet, the elevated position that makes it such a familiar landmark to locals and travellers alike also has a downside. The Crown is very difficult to access, and it's been fully exposed to 56 Scottish winters.
St Michael's Church property team suspected that some of the fastenings holding the aluminium cladding to the wooden core were failing. A survey of the Crown carried out by drone confirmed action was needed on the fastenings, but could not spot whether the woodwork under the cladding also needed repair. So this week, for the first time in 56 years, engineers are getting up close and personal with the Crown.
Engineers at work earlier this week on the spire at St Michael's Parish in Linlithgow.
Under the watchful eye of church property convener Jim Rae and local architect Gareth Jones, Matheson Plumbing Company Limited – who installed the Crown in 1964 – and structural engineers will access it, with the work scheduled to be completed before Linlithgow Palace re-opens to the public.
Jim Rae of St Michael's, explained: "Bringing in the hydraulic lifting equipment needed to work at this height is a major expense in itself. So the work is being done on a survey and fix basis. The structural engineers will inspect every part of the Crown in detail, and the contractors will immediately attend to any problems they find.
"This will take as long as it takes to make good all the issues. That could be up to five days, so the potential costs vary from £11,000 to £20,000. But whatever it takes, our objective is to ensure that St Michael's unique and famous spire can look at its best for at least another 56 years."