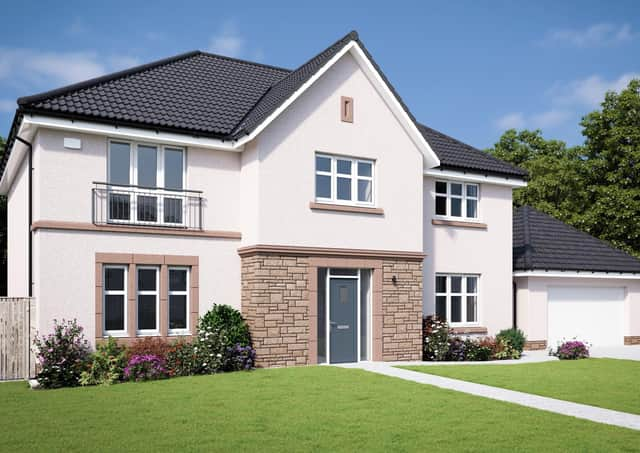 An image of the home-type coming to Queenswood Linlithgow.
Buyers can now envisage their dream lifestyle at Queenswood by CALA Homes (East), situated in the famous ancient town and within easy reach of Edinburgh.
The showhomes, The Lowther and The Macrae, are from CALA's exclusive Light and Space Collection – and feature interior design by the renowned Eileen Kesson of Envision.
The wider development incorporates just 40 detached homes, each averaging more than 2000 square feet each. Strong off plan sales at the location mean buyers must now act quickly to secure a move to Queenswood by Christmas.
Philip Hogg, Sales and Marketing Director with CALA Homes (East), said: "For so many, the past year has forced us to rethink our homes and our priorities.
"Not only do we want the perfect home-working space, but we want large family spaces and connecting gardens, plus those private spaces tucked away. These homes deliver all this without compromise."
The Macrae, the slightly larger of the two homes, has been designed with two significantly sized studies, one on the ground floor and one upstairs.
Both house bold, permanent furniture, with a statement desk and armchair on the ground floor, and a large bookcase, with the added flexibility of a stylish daybed in the upstairs.
The home features a striking yet warm and natural colour palette of earthy tones, coppers and umbers.
Interior Designer Eileen Kesson, said: "For The Macrae we wanted to create a very forward-fashion design, having lots of fun with cutting-edge trends. It's dark and moody while remaining practical and achievable.
"This is a lovely setting with a brilliant outlook. Linlithgow is a fabulous town and although it feels semi-rural there's a great deal going on."
For more information, visit www.cala.co.uk/homes-for-sale/east-of-scotland/queenswood or call 01968 458 517