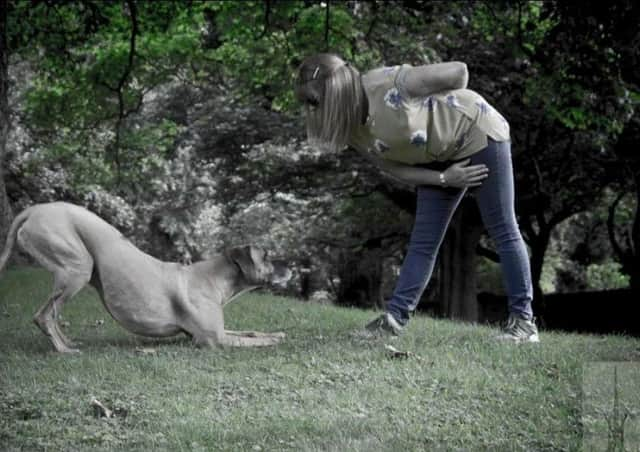 Claire Staines has won the January Westport Vet's Local Hero award for Linlithgow.
Sally recently underwent orthopaedic surgery. This surgery required her to be fully rested in a crate, for six weeks, to aid a successful recovery from her operation.
Sally's owner, Lorna Robison told us: "Sally, as a very active dog, is not finding this easy. On recently meeting Claire Staines from Lothlorien and having heard of Sally's surgery, she very kindly offered us mats to help keep Sally entertained.
"This is really making such a difference and I just wanted to nominate Claire for such a thoughtful gesture."
Claire like other business owners, has endured a tough year, through the March lockdown, continued tier restrictions and the current lockdown.
She has been busy during these times, not just keeping her family entertained over lockdown but has also been offering help and support to fellow dog professionals, business owners and individuals, as well as finding ways to change and adapt her own business to continue working.
She said: "Lockdown has been, interesting, that is about the only word that covers it. I've worried, learned new ways to function and my cocktail talents have improved vastly!"
"As a business owner, it's difficult. We have very little in the way of guidance from the government but I'm sure it's hard for everyone in one way, shape or form. Just keeping the team at ease has been my number one priority.
"On the plus side our online puppy class has people from different countries signed up, that's exciting!"
Praising Claire further, Tracey Grant of Linlithgow Leads said: "Claire runs a strong team of nine trainers including myself who have so much to thank her for.
"The first lockdown in March many people stayed at home in their pjs bewildered with the situation we all found ourselves in.
"But Claire shook herself down and prepared an amazing online course, hours of video tutorials and narratives.
"This was not only for her own use but her training team to use also.
"I, like the rest of the Lothlorien team, also run a dog walking company where our businesses pretty much ceased for three months, meaning we had little income.
"However, we were kept busy training as Claire distributed the work out between the whole team and we trained from home via Zoom, it's been a busy lockdown.
"I echo the whole team when I say well done 'Staines' and thank you, you saved my sanity by keeping me busy!"
If you would like to nominate someone for Westport Vet's Local Hero Awards, email details of your local hero and their act of kindness to: [email protected]
Each month Westport Vet's Local Hero will receive a certificate of recognition and a treat for themselves at a local business.