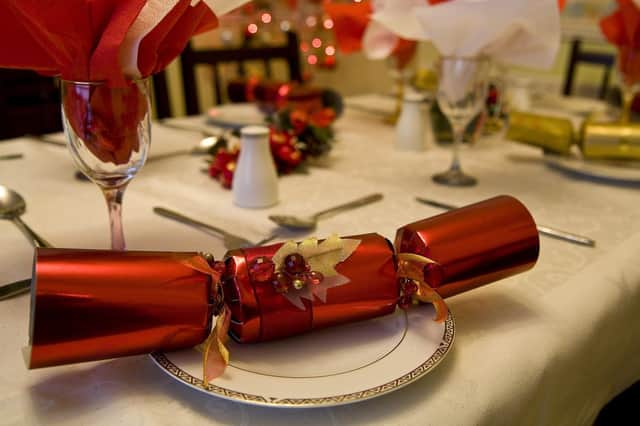 How different will Christmas Day dinner be this year?
Professor Jason Leitch warned in an interview on BBC Radio Scotland's Good Morning Scotland that the festive season was "not going to be normal."
And he added: "We are not going to be in large groupings with multiple families coming round – that is fiction for this year."But his suggestion that families should "get their digital Christmas ready" sparked a huge backlash,
Opinion was split with many saying any restrictions on visiting families would be the final straw - and also, impossible to enforce.
The Falkirk Herald Facebook page was inundated with immediate reaction which underlined how difficult a task political leaders will face if they opt to keep restrictions at Christmas in a bid to limit contact and suppress the virus.
The First Minister has previously insisted it was too early to plan for Christmas, saying it was too soon to tell what impact restrictions are having on the spread of the virus.
The feedback from our readers included the following comments:
Margaret Wilson said it could be "one restriction too far" adding: "When vulnerable people can't have visitors, this will definitely be hard for everyone."
Others were shocked at the prospect of an online Christmas.
June Moyles: "This virus us going nowhere. People need to get on with their lives. We can't keep locking down every other week."
Arlene McKenzie: "2020 has been ruined enough without having Xmas ruined too."
Steven Frater; "The restrictions are totally unsustainable. 97% of people will not suffer serious symptoms, however vulnerable people do need to be protected, another approach is needed! Most people will not stay away from their families at Xmas, most have had enough already, this is not a realistic proposal."
Michelle Skelton: "Course they are gonna say that. It's then up to u as individual to do what u think is right for u and your family taking into account ur own circumstances."
Stuart McCallum: "Not a hope in hell will they have a chance of keeping people apart at Christmas, & new year will be even worse."
But there was also support, and understanding, on why a digital Christmas may have to be the case this year.
Judith Fawcett: "It will be different for us as we are always with family for Christmas so will be a lot quieter but we won't let that spoil the day! We will still have a nice Christmas just a lot more relaxed than usual."
Mark Ware: "he only way to ever come out of restrictions etc is if everyone plays their part, as at the moment the few are spoiling it for the many."
Julie Sinclair: "Let's just hope you all still have a family to visit by Christmas... and also when you are going about your business not following the rules... think about the healthcare workers that will need to give up Christmas with their family to possibly look after yours!!"
You can follow the debate, and have your say on our Facebook page.
Thank you for reading this article on our free-to-read website. We're more reliant on your support than ever as the shift in consumer habits brought about by Coronavirus impacts our advertisers.
Please consider purchasing a subscription to our print newspaper to help fund our trusted, fact-checked journalism.