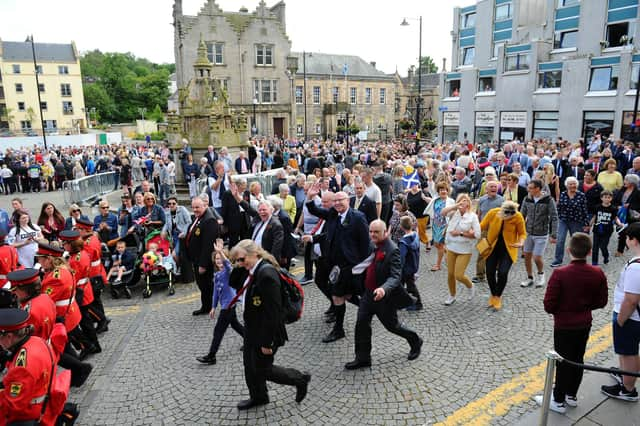 Picture Michael Gillen. Linlithgow Marches 2019.
The Deacons Court has continued to monitor the Scottish Government's guidance throughout the last year in the hope of being able to re-open some events in the lead up to Marches Day in June .
The Court met via Zoom on Tuesday to discuss The Riding of Linlithgow Marches 2021 and decided to move it online for the second year running. In a Facebook post on Wednesday, the Deacons Court said: "The Deacons Court fully considered a number of options for the 2021 Marches and took into consideration the safety of the community and the traditions of the day.
"With this in mind, the Deacons Court made the difficult and disappointing decision to cancel Linlithgow Marches 2021 and to hold online virtual celebrations similar to last year.
"While we know that this will be disappointing to many, our priority must be to the safety of the people of Linlithgow."
The Court hopes local people can still enjoy the town's biggest annual event online, adding: "A full programme of online events and information on ways in which the community can get involved in the Virtual Marches, will be available throughout the coming months and we do hope to encourage as much involvement from organisations and individuals as possible.
"The Provost, Bailies and Deacons thank you for your continued support, and hope that you remain safe during these difficult times. Long Live the Marches!"