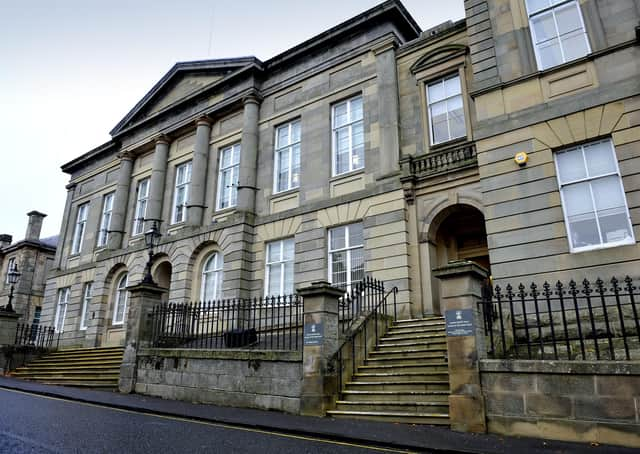 Wheelchair users can access Lanark Sheriff Court using a ramp at the front of the building.
Research by specialist lawyers Bolt Burdon Kemp assessed 444 courthouses in England, Wales, and Scotland on 11 accessibility criteria and found that no courthouses in Scotland met all the accessibility criteria.
It was found there were only eight courthouses – seven in England and one in Wales – which met the 11 criteria measures.
The criteria used included disabled parking, accessible toilets, lifts hearing loop systems, interview rooms, baby changing facilities, video conference facilities, wireless internet access, witness support facilities, offering wheelchair access, and allowing assistant dogs into the building.
The study, carried out between May and July, revealed that only eight per cent of courthouses in Scotland are fully accessible for the disabled. This meant there had to be wheelchair access within the courthouse, disabled parking spaces near the courthouse, and accessible toilets.
The research found that seven in 10 Scottish courthouses offer hearing loops or hearing aid systems and also note that they accept assistance dogs.
In addition, 62 per cent of courthouses in Scotland offer baby changing facilities which are typically incorporated into the disabled toilets.
The report adds: "When the issue of accessibility in courthouses is discussed, wheelchair access and availability of working lifts tend to be the main factors that are considered.
"However, many of our clients face additional barriers as they attempt to pursue justice. Clients who have issues with hearing or seeing may not be aware of all that is being said or done in court.
"For our clients who have mental health issues or learning difficulties, the court process can bring additional trauma and anxiety.
"We also have clients who are busy parents, who may find it difficult to juggle childcare with going to court."
The report concluded: "Being made uncomfortable in court because the buildings aren't equipped to handle their disability or other issues adds an extra sense of discomfort, making an already distressing time even more difficult."