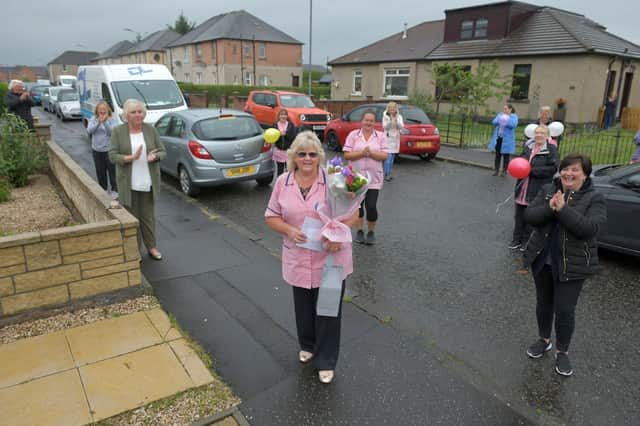 Lorraine Lynch is retiring from her role as a home carer with Falkirk Council after 31 years. Pic: Michael Gillen
Colleagues past and present gave one retiring Falkirk Council home carer a socially distanced surprise send off.
Lorraine Lynch returned home from her last shift as a personal carer last Wednesday evening as she took early retirement, and shortly after heard a knock at the door.
When she opened it, she discovered a group of her colleagues, including some former council employees, in the street to wish her well in her retirement after what would have been 31 years in July.
Lorraine was surprised by her colleagues last week. Pic: Michael Gillen.
Charlene Thomson, who has worked with Lorraine for around ten years was one of those behind the surprise farewell, which saw them maintain the two metre distance between each other.
She said: "Lorraine had no idea, it was a total surprise for her.
"We had organised it about a week and a half beforehand.
"She's quite a private person, but we thought after almost 31 years with the council she couldn't just go and have nothing.
"Usually we would celebrate by going for a meal or going to a tribute night, but we obviously can't do anything like that at the moment. So we decided to have a social distancing event outside her house.
"One of our seniors had got in touch with her to say she was going to drop in a card, to check she was at home. So she was expecting the senior, but she didn't expect everyone else.
"We played Lorraine's favourite song, Simply the Best while we gave her a round of applause, and we had banners and balloons to dress up the occasion."
Lorraine (63), from Larbert, started working with the council in 1989 as a home help. She finished up working as a personal carer, a role she's been doing for around 20 years in the Stenhousemuir and Larbert areas.
She said: "I was very shocked. When I finished on WednesdayI got a chap on the door at the back of 6pm. They were all out there.
"I was really surprised, but it was a very pleasant surprise.
"It was nice of them as with this lockdown we're all spread about and we don't see each other as much.
"Time has flown by and I'll miss all my colleagues and clients."
But Lorraine's sure that although she is retiring she'll not be sitting still.
She added: "I'll be kept busy with my grandchildren, and my dad who is 90 this year. I relax by gardening, knitting, sewing and walking the dog."