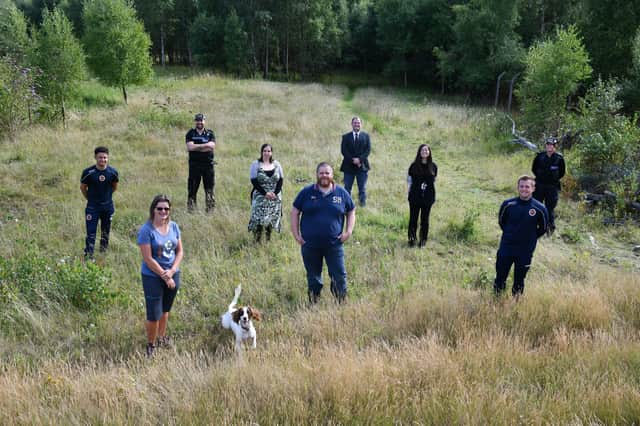 Representatives from the organisations involved in the project. It is part of a wider partnership between Keeping Larbert & Stenhousemuir Beautiful; local police; Larbert High School. Stenhousemuir FC Warriors in the Community; Councillor Gary Bouse; Councillor Laura Murtagh and Carron Bathrooms. Pic: Michael Gillen
The Keeping Larbert and Stenhousemuir Beautiful (KLSB) group has been awarded £5500 from the Central Scotland Green Network Growing Food Together fund to help kick-start work on the initiative.
With the money, KLSB – along with a number of partner organisations – is looking to convert an area of vacant land into a productive community space providing opportunities for community growing, outdoor learning and events.
Mandy Brown, planning officer (environment), with Falkirk Council has been helping the group work on the project.
She said: "We have managed to get £5500 from this fund which is great as it covers the whole of the central belt.
"We're going to develop a community garden where we can grow our own fruit and veg.
"We have found a site owned by Carron Bathrooms which is former industrial land that we want to transform to make a productive growing space.
"Some of the money will be used for soil testing and we're looking to bring someone in to help design the site properly.
"The site backs on to the Carron Dams nature reserve and the group is keen to work with the group from the nature reserve to try and create something wildlife friendly that complements the dams site. We're looking to do an environmental survey so we don't disturb anything we don't have to.
"Some of the money will also be used to buy materials so we can start building raised beds.
"As it's former industry land we're not going to plant into the ground there but will create raised beds and bring in soil and compost.
"The group has big plans for the site to create a very productive garden and they'd like to have an outdoor learning section for schools who could come and perhaps do some growing of their own.
"They would also like to put up a polytunnel and improve access to the site from the road.
"We're in the early stages of the project at the moment but there are longer term plans to make the gardens a nice place to visit and a valuable community resource.
"If we can get this going successfully we can get people down learning about growing their own food and a sustainable way of living.
"The community is really driving this project and it's a collaboration between different local groups."
Among those involved in the wider partnership to create the community garden alongside KLSB are Stenhousemuir FC Warriors in the Community, Larbert High School, local police and councillors and Carron Bathrooms which owns the site.
The local project was one of nine environmental projects across central Scotland to receive a share of the £100,000 pot of funding to encourage community growing and promote healthy eating.
Supported by the Scottish Government, projects are sharing the fund to foster community engagement in growing and learning about food, and promote healthy eating and outdoor exercise.
For more information about the CSGN Growing Food Together fund visit www.centralscotlandgreennetwork.org.