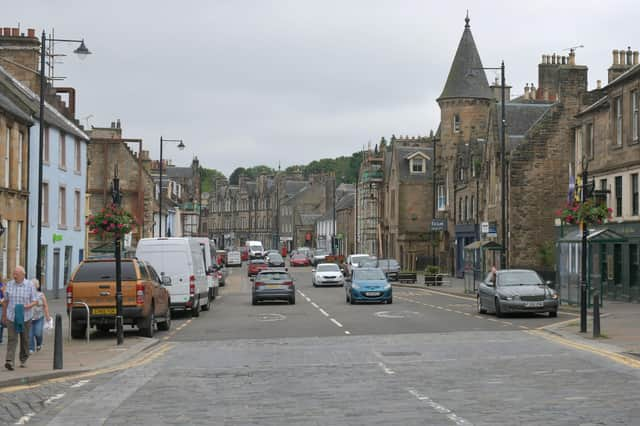 The funding bid is aimed at reducing traffic on Linlithgow High Street. Picture Michael Gillen.
West Lothian's £8 million bid for the Linlithgow and East Falkirk Constituency is for the provision of all-ways slip roads at Junction 3 of the M9 (Linlithgow) and associated improvement works on Linlithgow High Street.
Council Executive heard that the provision of slip-roads in both directions at Junction 3 of the M9 will reduce traffic on Linlithgow High Street.
Together with improvements to key junctions at either end of the High Street, this will bring environmental benefits, particularly improved air quality.
The meeting heard details of potential bids for future rounds of the Levelling Up Fund which included the potential of a larger scale joint bid with Falkirk Council to fund the construction of a new bridge at the Avon Gorge with additional improvements to the A801 road. Initial discussions on such a bid have been held and have paved the way for a potential joint bid into the fund for the financial year 2022/23.
However, a proposal from Councillor Frank Anderson, SNP depute leader, and backed by Tory group leader Damian Doran-Timson to include the A71 in future bids was voted down.
The cross-party plea was to consider a dual carriageway programme on the A71 from Livingston into Edinburgh.
Improvement plans for that road have been discussed by councils since the 1960s, including by-passing West Calder, and both councillors pointed to the fact that if the plans were needed 60 years ago they were more vital now as housing develops along the A71 corridor.
West Lothian Council is also to be involved in a submission to the UK Community Renewal Fund of £220m, open to local authorities – although additional support is being given to the top 100 places. Although West Lothian is not in the top 100 list, Council officers have worked in partnership with West Lothian College and a number of other stakeholders to confirm a proposed application for funds of £1.8m which will enable local people and businesses to seize new opportunities within growth sectors in West Lothian.
Leader of West Lothian Council, Lawrence Fitzpatrick said: "The council constantly is alert to funding opportunities which benefit our county as these projects benefit job and business opportunities."