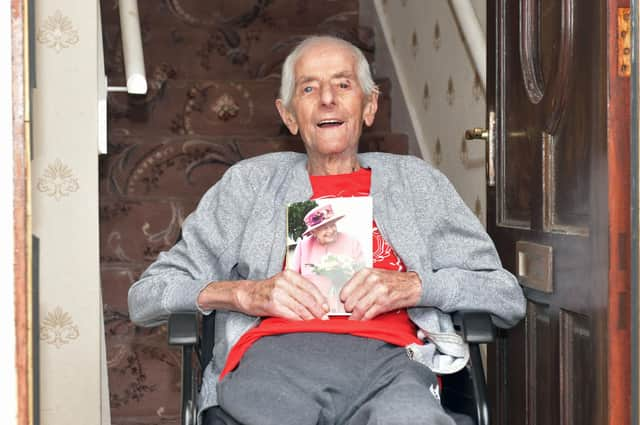 Falkirk resident Malcolm Finlayson, originally of Camelon, is celebrating his 100th birthday. Picture: Michael Gillen.
Malcolm Finlayson is celebrating his new three-figure age at home in Bantaskine Road, Falkirk today with family members stopping by in small numbers, in line with coronavirus social distancing laws, to mark the milestone moment.
The circumstances around the celebrations may be far from ordinary but then so too is this spritely centenarian who, on his birthday each year up until his 98th, would swim the same number of lengths as his age.
Malcolm was born and brought up in Camelon's Dorrator Road by parents Malcolm and Charlotte before the family moved to nearby Prospect Street.
Life-long Falkirk fan Malcolm Finlayson is marking his 100th birthday at home. Picture: Michael Gillen.
The middle child of three, along with older brother Tom and little sister Betty, he attended Camelon School and was named as dux at the age of 14.
After leaving school, Malcolm began training as a joiner but struggled to find work. He then turned his attention to instrument-making and moved temporarily to Bishopbriggs aged 15.
His joinery skills would be put to use five years later during the Second World War when he joined the Royal Air Force and serviced Warrington bombers in East Africa and Penang, Malaysia.
The day before he headed off to war, Malcolm got engaged to wife Betty, with whom he had two children, Jean (67) and Brian (72).
Following the conclusion of the conflict, he took up joinery as a profession when he returned home to Hopedale in Camelon and found work as a foreman joiner at Falkirk Royal Infirmary, a role he held for 33 years before retiring aged 63.
Retirement allowed him to spend more time with his grandsons, Alain, Kenneth, Ruairidh and Fionnlagh. He also now has four great-grandchildren.
A man of many hobbies, Malcolm would regularly go hillwalking, swimming and exploring — passions he was able to keep going well into his 90s.
As a keen supporter of Falkirk FC, he first started going to matches as a six-year-old and could still be found cheering on the Bairns from the stands at the age of 98.
In his younger years, Malcolm climbed several Munros and Corbetts and would take his family walking all over Scotland and the Lake District.
That sense of adventure never left him as he can also say he has climbed to the top of both the Sydney Harbour Bridge, when aged 18 and 85, and the Blackpool Tower, aged 96.
Also among the highlight reel for Malcolm and his family in recent years are outdoor activities including water-zorbing at The Falkirk Wheel and gliding.
Daughter Jean said: "His motto is 'You have one life, live it'.
"He was very active and full of life and laughter. He never gave up and always had lots of stories to tell.
"Another phrase of his is 'I can laugh at the way I live because life is full of laughter'."
As well as healthy doses of fun, exercise, sugar and salt, Malcolm revealed a final ingredient for a long and happy life.
Addressing a question on how he has made it to the age of 100, he replied: "By going my way."