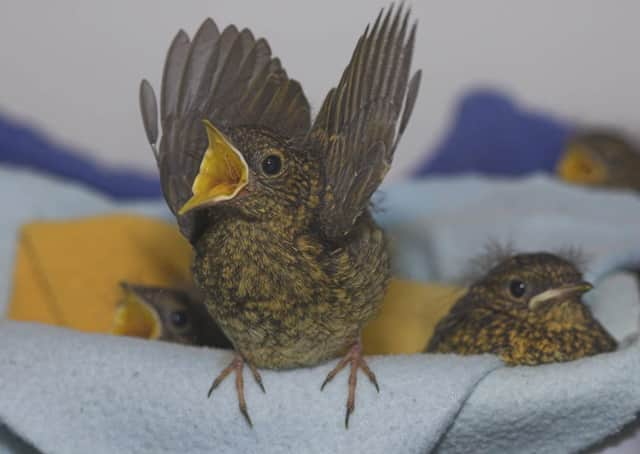 Robin nestlings should be in their nests but, if in doubt, please call the SSPCA.
Scotland's animal welfare charity responded to 296 reports of baby birds in need in the week ending May 15.
This compares with just 35 for the same period the month before – a rise of more than 700 per cent.
Last month, the SSPCA launched its #WildlifeWise campaign to educate the public on when to contact officers about young wildlife.
The aim was not to create orphans unnecessarily.
Of the 82,000 jobs the Society's inspectors and animal rescue officers took on in 2019, almost 10 per cent involved a fledgling or a nestling.
A fledgling is a fully feathered young bird which will be learning to fly if it's out of the nest. A nestling will be fluffy or unfeathered and should never be out of the nest.
There is no cause for immediate concern if a fledgling is out of its nest but a nestling is likely to be in need of help.
Mike Flynn, the SSPCA's chief superintendent, said: "Every year, we see a massive spike in reports of baby birds as we move from spring to summer.
"This year, we believe the increase may have been so dramatic as recent easing of restrictions means folk are out and about more often.
"People spot a fledgling out of the nest and approach it with the best of intentions.
"Unfortunately, this can scare off the parents, meaning we have to take the baby bird to our National Wildlife Rescue Centre until it is old enough to be released.
"We love caring for them but we'd love it more if we could keep families together in their natural environment.
"If everyone follows the advice on our website or calls our animal helpline before they approach a baby bird, we can make sure we only rescue those who genuinely need it."