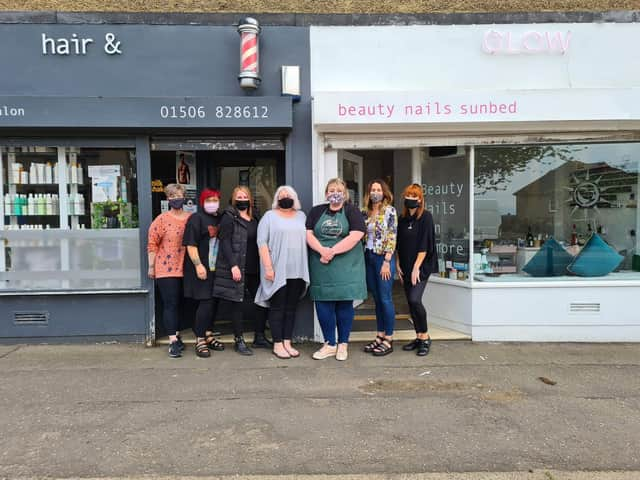 The staff at Hair and Glow, Bo'ness. Left to right: Claire (barber) Lisa (stylist) ashley (owner)Johann (nail technician) Kim (nail technician) Jayde (dermaplanner & teeth whitener) Megan( apprentice).
Hair and Glow on Dean Road will offer free haircuts every Wednesday this month, with customers only required to make a donation to help the Bo'ness Fair Festival.
All donations will be passed onto the Fair committee at the end of June.
Salon owner Ashley Beattie explained why she is making this kind gesture.
She said: "I'm from Bo'ness. Obviously the past couple of years have been a downer for the Fair and there has not been the usual fundraising for the Fair due to the ongoing coronavirus restrictions this past year.
"So this is just a little something for them, to help them out. I'm just happy that we can help in any way we can.
"We used to be shut on a Wednesday but obviously coming back we have been quite busy. But this is just my time and like I say it's been a tough year for the Fair, so I'm happy to help.
"It's just me, offering a cut and blow dry for a donation to the Fair."
Talking about the response so far, Ashley added: "I put a post on Facebook to let people know about this and the response was brilliant.
"We have had quite a few bookings but there are still appointments available.
"I just want to raise as much money as possible. It just really depends on how much of a donation they give."
Hair and Glow was opened in December 2016, with the salon currently staffed by three stylists, an apprentice and two self-employed nail technicians.
Ashley highlighted the importance of the Fair to Bo'ness: "It's massive. I'm gutted they have not had it for the past couple of years now.
"It's not the same without it. I'm absolutely devastated. The town needs the Fair.
"I got a nice email form the Fair Committee to say thank you. I just wanted to help them out.
"I will probably continue to do this. I might do it every June, maybe for other local causes, just putting it back into the town."