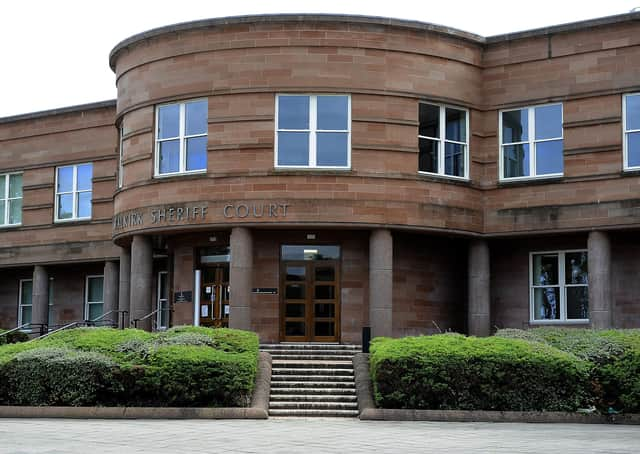 Picture Michael Gillen. CAMELON. Falkirk Sheriff Court exterior.
Shaun Wilson (35) had another couple of bags in his trouser pocket – in total he had 2016 white tablets in his possession which he was looking to offload.
Wilson, 26 Hadrian Way, Bo'ness, appeared from custody via video link at Falkirk Sheriff Court last week having pleaded guilty to being concerned in the supply of class C drug Etizolam – or street Valium as it is known – in Thornhill Road, Falkirk, on August 8.
The court heard police officers were in attendance at Tesco in Falkirk's Central Retail Park on an unrelated matter when Wilson's activities came to their attention.
"Officers were approached by a member of the public," said the procurator fiscal depute. "They told officers the accused had over 500 Valium tablets in his backpack and was trying to sell them.
"They started searching for the accused and saw him walking into Victoria Park. He was stopped and searched and officers found two bags containing 30 white tablets in his trouser pocket.
"He was asked what they were and he said the were 'Vallies'. Officers then checked the accused's backpack and found it contained 2016 tablets."
Wilson was taken to Falkirk Police Station and his stash was examined – there were 400 tablets lying loose and 16 bags each containing 100 tablets.
It was stated these bags would sell for £50 each and the Valium Wilson was carrying would have a total value of £800 on the street.
Defence solicitor Stephen Biggam said: "He has one previous drugs conviction back in 2007 and that was for possession. There is an underlying condition that has resulted in him being involved with the court."
Sheriff James MacDonald said: "Your record of previous offending is unenviable and you have also offended in the very recent past, which attracted a custodial sentence. This offence involved a not insignificant drug dealing operation and the drugs involved were class C. It was not for the purpose of direct profit but to subsidise your own drug use."
Sheriff MacDonald sentenced Wilson to six months in prison back dated to August 10 – the date he was taken into custody.