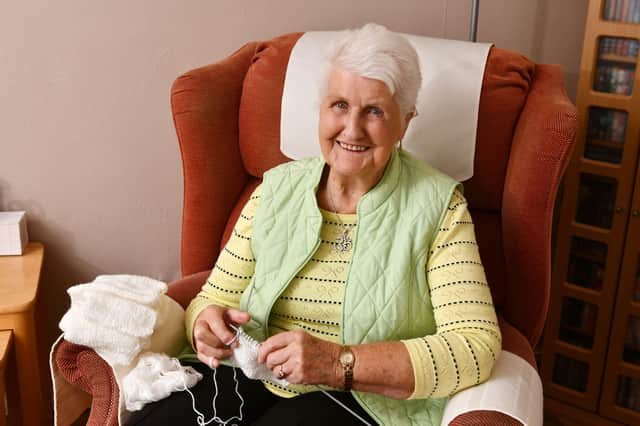 Mary Sellstrom has knitted more than 70 hats for premature babies in FVRH's neonatal unit. (Pic: Michael Gillen)
Mary Sellstrom was seven months pregnant when, a week before her 18th birthday, the baby decided to arrive early.
Her little girl, Barbara, entered the world at 3lb 2oz but her weight subsequently dropped to 2lb 12oz.
Mary, from Bainsford, said that without the dedication and determination of the midwifery team at the former Falkirk and District Royal Infirmary, her first born would never have survived.
Barbara, who now lives in England, celebrated her 70th birthday during lockdown.
Mary said: "Someone had said the hospital was desperate for the hats for the premature babies and I like to knit.
"During lockdown I wasn't going out so I decided I'd knit 70 of them as Barbara was turning 70.
"It was a way of marking her birthday as we weren't able to see each other."
Mary, who went on to have four daughters, explained how things have changed in so many ways since 1950.
Her daughter was taken away immediately after delivery and placed in an incubator.
She was not allowed to touch or hold her and she had to remain in bed for ten days.
The 88-year-old said: "My husband was allowed to see the baby once through the window of the incubator room where our daughter lay.
"He was then asked to leave.
"There was no touching, no holding, just looking through the window.
"I was heartbroken and longed to hold her."
To express milk, the young mum had to travel to hospital twice a day by bus, walking nearly two miles to the nearest bus stop.
After five weeks she was allowed to try and breast feed her baby.
"Holding her for the first time is a feeling I have never forgotten until this day," she explained.
"She was a fighter and continued to improve.
"She met the required 
milestones and was 
eventually allowed home weighing 5lb 8oz."
Mary recently went with one of her other daughters, Jacquie, to hand the hats into the hospital.
She added: "The staff were really pleased to see so many.
"I'm now knitting sleeves for them for the babies to wear when they have a canula in."