Baby of the week: Falkirk's Logan Lennon
Your latest bundle of joy to feature in our column
Thursday, 24th September 2020, 4:45 pm
Updated
Friday, 25th September 2020, 12:55 pm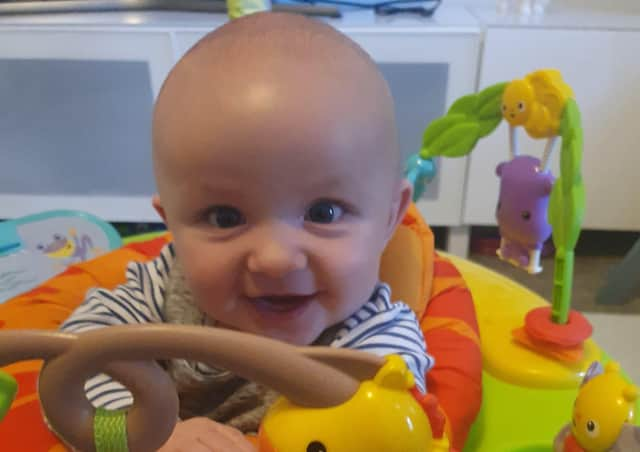 Logan Lennon
THE DETAILS: Logan Ronnie Thomas Lennon was born at Forth Valley Royal Hospital at 8am on April 16, 2020, weighing 7lbs 6oz.
THE FAMILY: Mum Sophie Lennon (30) is a civil servant, while dad Stuart Lennon (31) is a Thermal Insulation engineer with Altrad. Big sister Aria (4) loves being a big sister and dotes on Logan. The family live in Falkirk.
THE PREGNANCY: Mum said she suffered with hyeremesis for the first four months and had pelvic girdle pain requiring crutches and polyhydramnios for the last stages of the pregnancy.
THE BIRTH: Mum was induced on April 15 and was in labour for 16 hours.
THE BABY: Logan has just turned five months and has developed his own little personality. He is such a happy wee boy and giggles at his sister's antics all the time. Mum says he is an absolute joy and has completed the family perfectly.
THE NAME: Logan was the only name mum and dad could agree on. Ronnie is Sophie's papa's name and Thomas is Stuart's dad's name.
THE GRANDPARENTS: Lesley and Grant McDowall, Caroline and Thomas Lennon, John Mclean and June Girdler. Great grandparents Ronnie and Catherine Cheape and Mary Lennon.
THANKS: Mum and dad would like to thank all the NHS staff who has supported them during lockdown and helped make the experience of having a baby at the height of the pandemic as magical an experience as it was the first time. Also thanks to and their families for all their support.