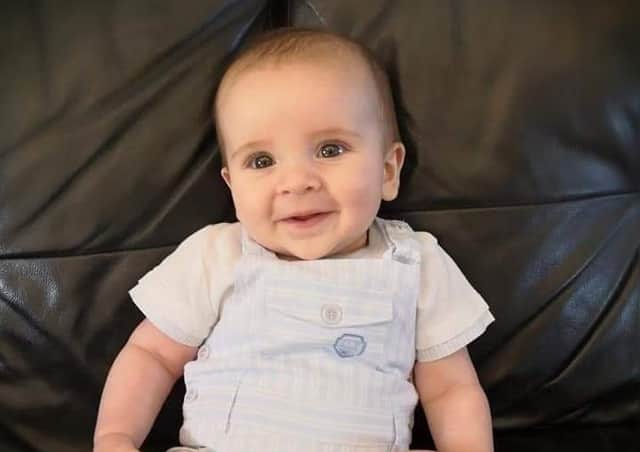 Baxter Jeffrey
THE DETAILS: Baxter McKenzie Jeffrey was born on Sunday, November 3, 2019 at Forth Valley Royal Hospital at 10.30am, weighing 7lb 12oz..
THE FAMILY: Mum Kirsty Jeffrey (35) is a childminder, while dad William (38) is a joiner. Leona (7) is an amazing big sister and Baxter absolutely dotes on her. The family live in Bonnybridge.
THE PREGNANCY: Mum says the pregnancy was fairly straightforward but with quite a few more aches and pains compared to her first pregnancy.
THE BIRTH: Mum said the birth was very quick and straightforward. She said: "We left the house just after 9am, I was admitted to the maternity ward around 9.50am and Baxter arrived at 10.30am.
THE NAME: He's named after his Grandpa's favourite footballer player, Slim Jim Baxter. His daddy, grandpa and granda are all massive Rangers fans. The middle name McKenzie is in memory of his great granda, whose surname was McKenzie.
THE BABY: Baxter is a very happy wee chappie, who is always smiling and laughing especially when being entertained by his big sister! He gets very excited about his food (just like his mum) and loves a good bounce in his Jumperoo.
THE GRANDPARENTS: Gran Maggie McCallum, grandpa Neil McCAllum, granny Diany Diane McKenzie and granda John, John Jeffrey.
THANKS: Mum would like to thank the Oak team of midwives and all the staff at Forth Valley, who were all so friendly and helpful. She said she's grateful for the "excellent standard of care" she received throughout her pregnancy and birth.