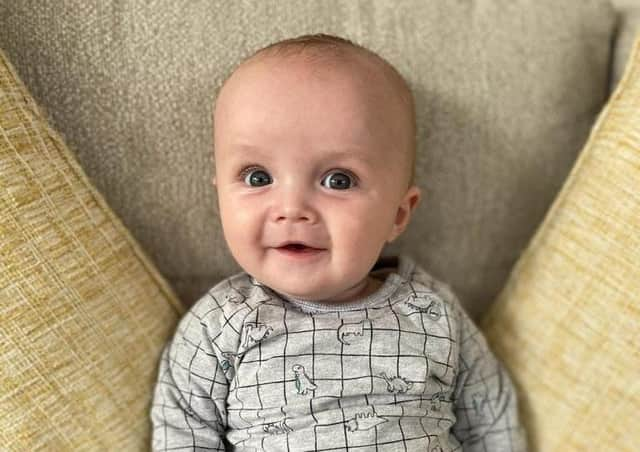 Caleb Gorey
THE DETAILS: Caleb Gorey was born on February 28, 2020 at Forth Valley Royal Hospital at 7.15am, weighing 7lbs 7oz.
THE PARENTS: Mum Dione Turpin is 19 and dad Kieran Gorey (21) is a mechanic. The family live in Banknock.
THE PREGNANCY: Mum said she had a good pregnancy and loved every moment of it despite having bad morning sickness that continued until around week 30.
THE BIRTH: It was a long 50 hour labour for mum and Caleb was back to back.
THE NAME: Mum suggested Caleb and put it on their possible list. The more they thought about it the more they fell in love with the name.
THE BABY: Caleb is the most happy, content little baby ever. He is always giving everyone a massive smile. Mum and dad are over the moon with how amazing he is and so in love. He loves playing with his favourite teddy Mr Fox, musical toys and giggling at his dad's bad singing.
THE GRANDPARENTS: Granny Melanie and Papa Scott, Granny Lisa and Grandad Ian. He is also lucky to have four amazing uncles and two fabulour aunties.
THANKS: Dione would like to thank Kieran for being so supportive and amazing throughout the whole pregnancy and birth. She also would like to thank her mum, dad, brother, granny and grandad for being so supportive and helpful every day. Also, thank you to Kieran's mum and all his family for their support through everything.