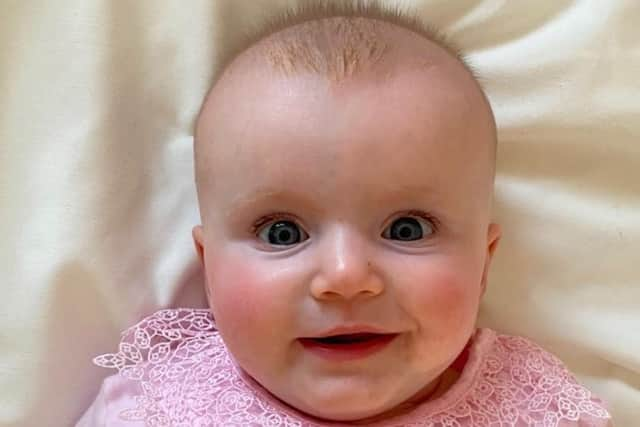 Brooke Burchill
Mum Pauline Moss, 37, is a customer service host for Virgin Money Falkirk, while dad Brian Charles Burchill, 43, is a cargo superintendent for OPAS. Brooke's big sister is Poppy, who is seven. The family live in Larbert.
Mum said the pregnancy was fine and with the country in lockdown she shielded through it all with Poppy, while Brian was working in Africa.
Brooke was born by planned c-section. Unfortunately dad wasn't present at the birth as it was his 13th day of 14 in isolation after returning to the UK from working abroad. Instead, Pauline's mum Isabel was there for the birth and Brian's mum Sandra visited that evening.
Mum and baby were allowed home the following day with Brooke's dad and big sister waiting in the hospital car park to meet her.
Mum and dad took a couple of weeks to decide on the name Brooke. Christina was always her middle name as it has a strong family link – it's Granny Sandra's middle name, Pauline's aunt's middle name and her great grandmother's name.
Rainbow baby Brooke is a happy baby and like clockwork with feeding and naps. Mum says she is "our wee treasure and we are forever grateful to have her".
Her grandparents are Isabel and Les Moss, and Sandra and the late Chaz Burchill.
She is the youngest great grandchild of Susan Moss and James Burchill.
Mum and dad would like to thank their families, friends and neighbours for all their support; their employers and colleagues for being so understanding and all the staff at GCRM, FVRH and Park View Practice.
*If you'd like your little one to be our baby of the week email us at [email protected] with your name, daytime contact number and baby's date of birth. Babies should be younger than six months old to enter.