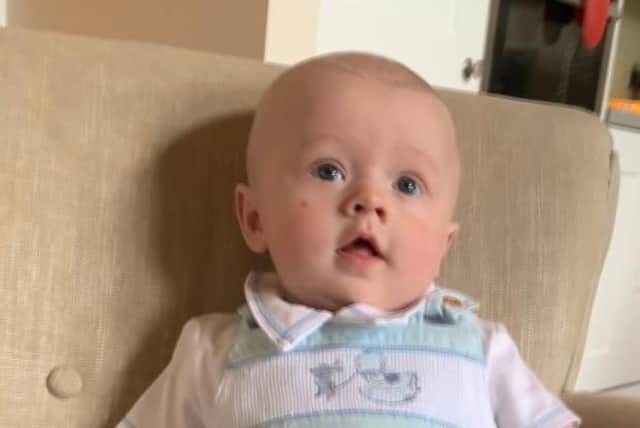 Lyle Jaye was born in December.
Mum Olivia Hamilton 22, is a dental nurse, while dad Max Jaye, also 22, works at a sawmill. The family live in Grangemouth.
Mum said she had a horrible pregnancy, suffering from hyperemesis and was in and out of hospital more times during her pregnancy than in her whole life.
Lyle was born by an elective c-section and mum says she couldn't have asked for a more relaxed and straight forward birth.
Lyle is a very happy, content and clever little boy, who mum says has been amazing since day one.
He's always been a really good sleeper, and mum and dad say they have been really lucky and it makes up for all the sleepless nights during the pregnancy.
The couple had picked out a girl's and boy's name from the very beginning. They found out at a gender scan at 17 weeks they were having a little boy. Mum and dad stuck with their initial name choice. They chose Lyle because they really like the name and it's not too common. His middle name Thomas is after Olivia's dad.
Mum and dad would like to thank Father Sean at StFrancis Xavier's Church for carrying out their son's baptism on May 22 and for making it a very special day for the family.
*If you'd like your little one to be our baby of the week email us at [email protected] with your name, contact number and baby's date of birth. Babies should be younger than six months old.