Are Linlithgow High Street plans a tree-mendous idea?
Local people are being urged to give their views on proposals to improve the look of Linlithgow High Street by planting new trees.
Wednesday, 20th January 2021, 6:32 am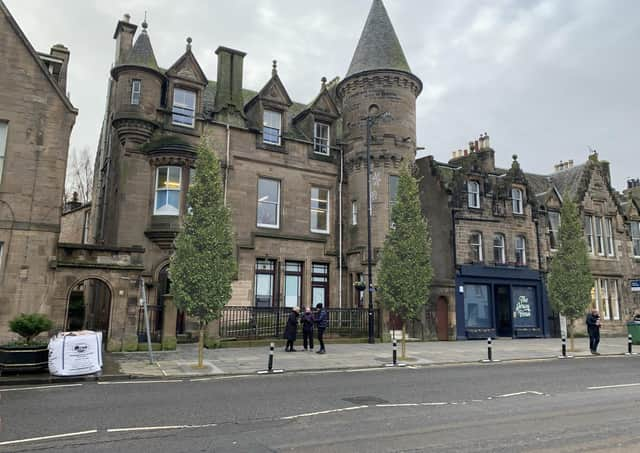 An illustration of one of the proposals.
In 2019 a grant of £53,300 from the Scottish Government's Town Centre Fund was awarded to Linlithgow Burgh Trust for more trees in the High Street. The project is overseen by a committee of Linlithgow Burgh Trust but is managed by West Lothian Council.
Covid restrictions have meant delays, but since the appointment of DWA Landscape Architects as consultants in November 2020, much work has been done. Andy McLatchie of DWA said: "We are delighted to have been appointed with the challenge to help further improve the character of the town centre. The introduction of more trees will not only help to reduce CO2 levels, reduce the effects of heat retention but encourage bird and wildlife and generally create a more pleasant atmosphere within the town."
The Street Tree Project was initiated by the Environment Working Group of Burgh Beautiful. Averil Stewart, the project leader, recalled how members seized the opportunity to put in an application for funding away back in August 2019. She said: "It is exciting to think of restoring and adding trees to the High Street, as once existed, but more important in preparation for a greener, cleaner and calmer environment for future generations when there may be less through traffic and quieter streets."
The montages prepared by the consultants show the potential for new Linlithgow High Street trees: fastigate hornbeams proposed east of The Cross and less upward-growing lime trees in front of the Partnership Centre.
Representatives from West Lothian Council, DWA and Burgh Beautiful identified potential locations from West Port to Low Port. Seven trees might be added to soft raised beds such as at the Health Centre and Regent Centre; eight to replace previous or damaged trees at St Ninian's Road and the Vennel; and 12 new trees planted for example outside the Partnership Building and the Star and Garter Hotel.
The tree types cover a small range and they include several of slender 'fastigiate' varieties.
Ron Smith, convenor of Burgh Beautiful, explained: "Fastigiate trees don't spread out. This minimises the risk of tree branches overhanging the roads or interfering with the street lighting, thus hopefully eliminating any future pressure from council roads staff to have them removed – but still giving the long-term green impact sought.
"They look really good when viewed along streets, rather than across them.
"We need such shaped trees in order not to block the light to upstairs windows.
"This was a factor in losing both of the two trees on the west side of the Cross, fairly recently."
John Mason, Chair of Linlithgow Burgh Trust, called on the public to look at the drawings and information and respond to the questionnaire to be found online.
He said: "Please let us have your views. Public response will help determine the final tree numbers and locations, taking into account how far the funds will stretch for the necessary construction of tree pits and size of trees to be purchased."
Completed questionnaires can be submitted online at https://lbt.scot/consultation or sent to Averil Stewart, Group Leader, Linlithgow Street Trees, 29 Highfield Crescent, Linlithgow EH49 7BG, no later than February 14.
Paper copies of the questionnaire can be obtained by contacting Averil
07899983377. The drawings and montage will also be displayed in the front window of Linlithgow DIY, 167 High Street.
If everything goes to plan, contracts will be in place by March 31 with planting in Autumn 2021.