Animal heroes of World War Two saluted by PDSA
Leading vet charity PDSA is paying tribute to the brave hero animals who helped save countless lives during World War Two.
Sunday, 23rd August 2020, 7:30 am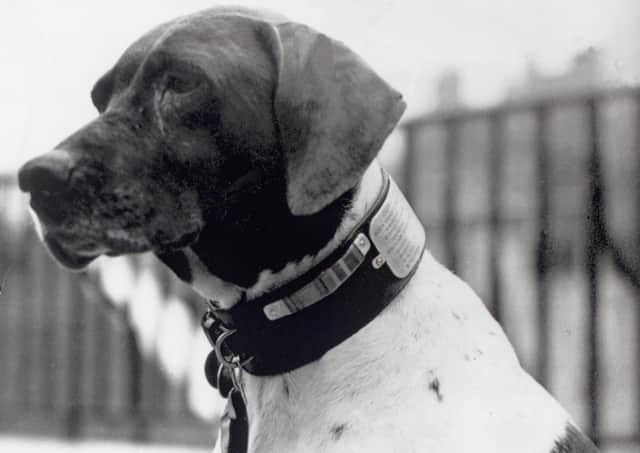 Heoric hound...Judy helped to keep up morale in a Japanese POW camp and saved countless lives.
To commemorate the 75th anniversary of VJ Day, the charity is sharing exclusive e-books which tell the stories of animal heroes honoured with the PDSA Dickin Medal, known as the animals' Victoria Cross.
They include the incredible story of English Pointer Judy, the only dog to ever be listed as a Prisoner of War in Japan.
Judy was the mascot on board HMS Grasshopper during the escape from Singapore when the Japanese invaded in 1942.
Centre of attention...Judy, aka Prisoner of War 81A, receiving her PDSA Dickin Medal from Viscount Tarbat, President of the Returned Prisoner of War Association in London in May 1946.
When the ship was attacked and sunk by enemy planes, she and her fellow crew members swam to safety on a nearby island.
After two days without food or water, the crew were becoming desperate when Judy began digging in the sand and unearthed a fresh water spring. This was only the beginning of her remarkable story.
Taken prisoner when they accidentally stumbled into a Japanese village, years of starvation and repeated ill treatment in POW camps followed for Judy and her crew.
She was awarded her PDSA Dickin Medal in May 1946. The citation read: "For magnificent courage and endurance in Japanese prison camps, which helped to maintain morale among her fellow prisoners and also for saving many lives through her intelligence and watchfulness."
The Dickin Medal recognises outstanding acts of gallantry displayed by animals serving with the Armed Forces or Civil Defence units in theatres of war.
The Medal was instituted by the charity's founder, Maria Dickin, with the approval of the War Office and Imperial War Museum, to raise the status of animals and acknowledge the remarkable roles they play in society. It was first awarded to a messenger pigeon named Winkie on December 3, 1943.
Amy Dickin, PDSA's awards and heritage manager, said: "Throughout history, animals have made an extraordinary difference to the lives of so many, not only the men and women who serve but also civilians who our military are protecting.
"Sharing the stories of these incredible animals to commemorate VJ Day is a great way to celebrate the incredible, life-saving role animals have played throughout history and continue to play today."