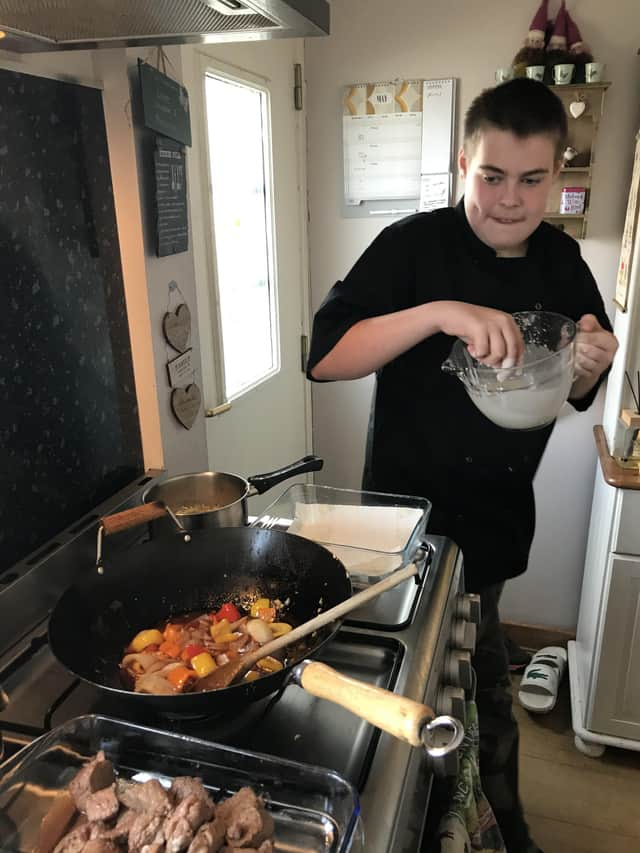 Scout badge work includes cooking a three-course meal.
AT the start of lockdown a group of Beavers, Cubs and Scouts wase encouraged to take part in a camp at home and were set some challenges via their Facebook pages.
The young people from the 93rd Braes were tasked with making meals, helping around the house and having their own campfires in their gardens.
Some took the opportunity to complete badge work that could be done at home, making models, producing a three course meal and even completing their mechanics badge.
Since the start of May, all sections have been having Zoom meetings with quizzes, Pictionary, Hip Hop dancing, even making soda bread and carrying out science experiments – all in their own home.
AS the preferred platform for online meetings, UK Scouts is looking at securing an offer of an upgrade of Zoom.
The idea is to provide an offer of Zoom Pro for group, district and county, area and region teams.
Negotiations are underway and Group Scout Leaders, District Commissioners, County, Area andRegion Commissioners will be contacted with information on how to register for a license as soon as an agreement has been reached.
Falkirk District Scouts website has a massive variety of activities aimed at helping group's continue to meet virtually with their members.
Among the activities is the challenge of doing a work out by spelling your name – each letter of the alphabet has an exercise for you to do. Equally challenging is digital Harry Potter escape room and a neckie flip challenge.
Pull together ideas for your own virtual meeting by going to: https://falkirk.frscouts.org.uk/index.php/adult-members-resources/virtual-scouting/
Care homes have been hit incredibly hard by the current global pandemic, from residents falling ill to being separated from their loved ones.
The call has now been made for young people across Scouting who usually support and visit care homes to help produce 10,000 acts of kindness.
The aim is to reduce social isolation and improve the well-being of people in care homes and become kindness champions by showing they 'care for care homes'.
Before deciding on an activity, contact the care home to see what will be the best way to help.