When the world revolved at 33rpm ...
National Album Day drifted across my radar last week.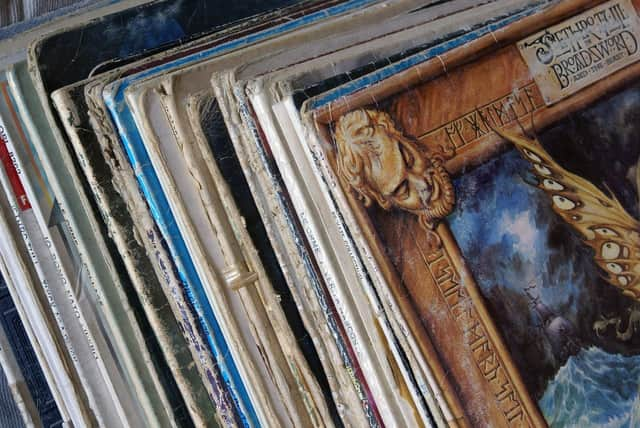 Records
My musical youth could be found in the grooves of 33rpms.
It sparked so many memories of my own journey from Top of The Pops to The Tube, and brilliant DJs such as John Peel and Radio Forth's Chris John.
Like many kids I started out buying records in Woollies. My first purchases were those terrible Music For Pleasure albums where session musicians drained the life out of the latest hits - I suspect the label only survived because of the sexist pin-ups on the covers, usually a pneumatic woman in a welder's vest and a cheeky smile.
It was a short hop from there to K-Tel where Mud, Showaddywaddy, and The Rubettes were king.
Woollies gave way to John Menzies and Boots, which had decent record departments back in the day. I knew things were changing when I went into Boots and got a horrified look from a young sales girl when I asked for a needle ...
So, the jump into proper, grown up music and real record stores co-incided with the arrival of Virgin on Princes Street, and discovering Edinburgh's great record shops; The Last Record Shop, The Other Record Shop, Bruce's, The Record Shack, and Vinyl Villains.
But the go-to place remained the Ezy Rider Record Exchange. I spent so many hours thumbing through the poly bagged covers I'd emerge with manky fingers and a stack of new vinyl.
Secondary school was where I studied music - formally (got an 'O' grade 'y'know for studying the Russian Five and 16th century English madrigals) and informally. The latter was more fun.
Albums were also things of beauty, to be poured over.
We'd devour the sleeve notes, the lyric sheets and be thrilled if some extra insets dropped out as we first took the vinyl out of its cover.
Back then, Queen albums also carried the proud boast "no synths"
I had ELO's Out Of The Blue double album on blue vinyl until an ill conceived playground swap saw it swapped for a 12-inch version of Ronnie Biggs and the Sex Pistols' A Punk Prayer.
But, the album with the biggest single impact on us was Pink Floyd's The Wall. Its sleeve alone fuelled many playground discussions.
Punk brought everything from Elvis Costello to the brilliant Ian Dury & The Blockheads, and then the early 80s delivered Go! Discs with Billy Bragg, Hank Wangford and the Housemartins.
Tom Waits ended up on my radar, and I found myself swapping albums such as Heartattack And Vine with Dave Snellor, a Labour councillor who went on to someone big in COSLA, while covering finance meetings.
I ended up with around 1000 albums which were tied up and transported around umpteen houses before finally being sold as a job lot for 75 quid to a dealer.
I still buy CDs today - there's just nothing to beat the feel of an album in your hand - but vinyl was, and is, magic,.
When Springsteen sang 'drop the needle and play', I got it. Still do …
Our columns are a platform for writers to express their opinions. They do not necessarily represent the views of The Fife Free Press.