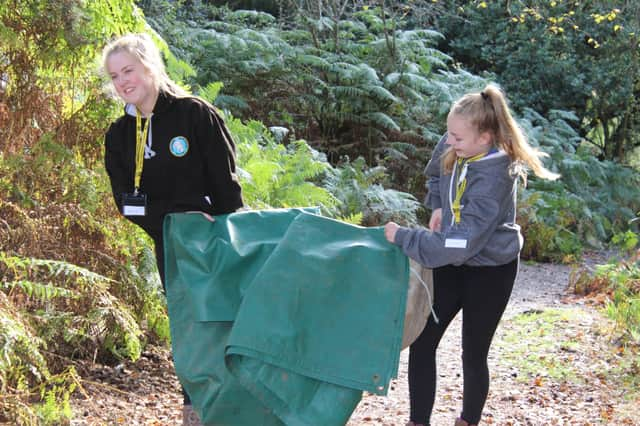 Preparing for the real deal at Blair Atholl which – this year at least – will be a virtual event.
One of the biggest gatherings of Scouts in Scotland will take place later this month – virtually.
Scouts from around the world will 'descend' on Blair Atholl to celebrate the 37th Jamborette.
From July 24 to 26, Blair Everywhere, a virtual camp from home celebrating the magic of Blair Atholl Jamborette, will take place.
The camp is open to every Scottish Scout, Explorer Scout and contingents from around the world.
It aims to give participants the experience, as well as a chance to share a taste of Blair Life, from building a dining shelter and cooking classic Jamborette recipes to international campfire songs, crafts and whole host of other activities.
More details are due to be revealed and anyone who is interested or would like to receive updates, should go to: www.jamborette.org.uk/
You can also follow organisers: @BAJamborette on Instagram and @BAJamborette on Twitter.
It follows the previous event which took place in 2018.
The 36th Scottish International Patrol Jamborette saw around 1150 Scouts and 400 leaders attend the event, including equal numbers of Scots and Scouts from 20 other countries.
THE latest webinar from Scouts UK prompted groups to start considering how to put together a risk assessment for meeting their members.
While there is still an embargo on all face to face meetings, preparations are going ahead for eventual meetings.
The reality is that they may be very different to how they were pre-Covid 19 but the aim is to be ready.
Graeme Hamilton, deputy UK Chief Commissioner, admitted that meetings may consist of fewer members or take place in different locations.
He also said returning to non-virtual Scouting might be different across Scotland, England, Wales and Northern Ireland.
He also highlighted the fact that Scouts UK will follow Government-approved guidelines.
He added that returning to face to face meetings is voluntary with the agreement of volunteers, parents and young people.
The full webinar is available via www.scouts.org.uk/volunteers/scouts-at-home/getting-everyone-back-together-safely/.