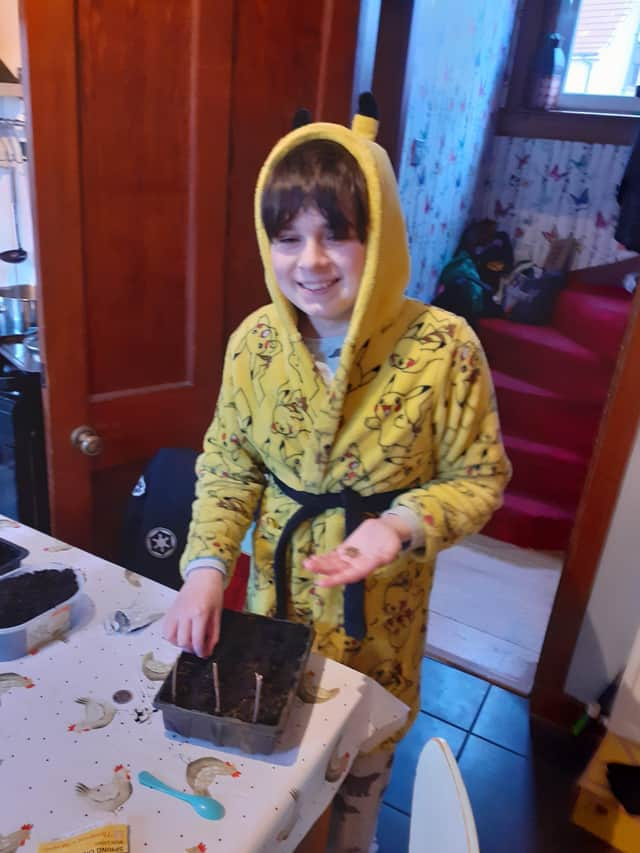 At the 40th Falkirk Scout Group, Ruaridh Smith has started his farming activity badge.
ALTHOUGH we are all restricted in where we can go there are still many activities Falkirk District members are pursuing.
At the 40th Falkirk Scout Group, Ruaridh Smith has started his farming activity badge.
Here you can see the Scout is sowing beetroot, spring onion and basil seeds.
He will transplant the seedlings into the garden in a short time and hopefully harvest them in a few months along with a variety of other items he will sow direct into the garden.
As part of the Great Indoors Challenges set by the Scout Association, the latest is to hike a mile at home and at the same time make a donation to Children in Need and Comic Relief.
Tomorrow (Friday) the two big annual fundraisers are getting together for a Big Day In on Radio and a Big Night In on TV to show support during the Coronavirus crisis.
Scouts are being asked to go the extra mile too. Together, young people, volunteers, parents and carers are going to Hike to the Moon.
If everyone hikes just one mile each – about 2000 steps or 20 minutes walking on the spot – then, together, it will total an incredible 240,000 mile journey.
You don't need to leave your homes to be part of this and it can be done at any time, on any date.
For more information go to: www.scouts.org.uk/volunteers/scouts-at-home/scouts-helpingothers/hike-to-the-moon/.
Adults are needed to help with next year's World Scout Moot in Ireland.
Organisers are targeting two categories – 18-25-year-olds and members over the age of 26 and the deadline is May 3.
Matt Lightfoot of the UK contingent management team reassured anyone who is interested that by signing up you are not committing to attending.
The contingent will confirm its attendees in June at which time people will be able to decide if they can commit.
He said: "Putting in an application doesn't sign anyone up for payments or tie people down should people have changes in their personal circumstances. We are also running our inclusion fund process so attendees will know exactly how much they will be required to pay prior to committing."
If you are interested go to: http://www.scouts.org.uk/.