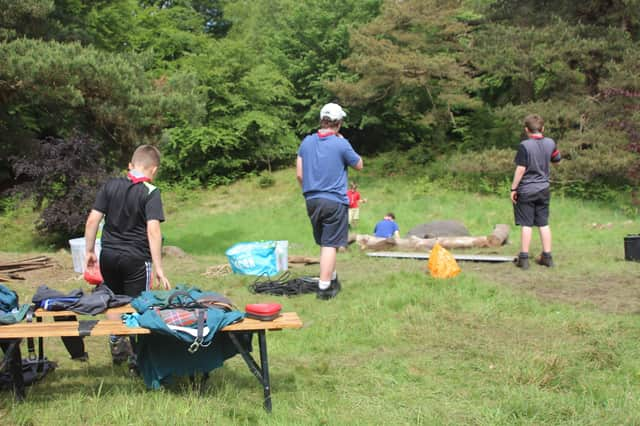 Scouts practicing social distances during activities.
OVER the last few months Scouting has taken on a different appearance.
The emphasis has been on making any meeting that take place as safe and as relevant as possible.
Scout groups across Falkirk, and across the whole of the UK, are adhering to the rules set down by the Scout Association, the Youth Association and, for the Scottish groups, the Scottish government.
A traffic light system of readiness is in place starting with: Red – digital programme delivery, no face to face activities or meetings, no residential experiences; Amber – digital programme delivery, small group sessions can take place outdoors, no residential activities; Yellow – digital programme delivery, small session can take place indoors and outdoors, no residential activities; Green – all activities can resume in line with government guidance.
Scouting in Scotland is currently at amber which has created difficulties for many groups.
One groupleader explained: "Although we are at amber and we've been given the nod to meet outside with small groups, we are restricted to a total of 15, that's the young people and the leaders in total.
"If like us you have more than 25 young people in each section you are faced with having to split the sections with maybe a small number meeting outside with leaders masked and keeping a social distance and enough of them in case of accidents. At the same time, we either have to run an online session for the other children or decide to have each little group meet every two/three weeks.
"To be honest it's a bit of a nightmare. We want to give our young members a full Scouting experience but at the same time want to keep everyone healthy.
"The move to yellow and small indoor meetings isn't much better because then we have the issue with toilets and ensuring everything is as clean as it can be.
"I have heard some people say we should simply have more meetings each week but they forget we are all volunteers and the majority of us have full-time jobs."
The Scottish Government has previously indicated youth indoor meetings might be allowed to restart on August 31. However, as with many things Covid 19-related, it is a case of wait and see.