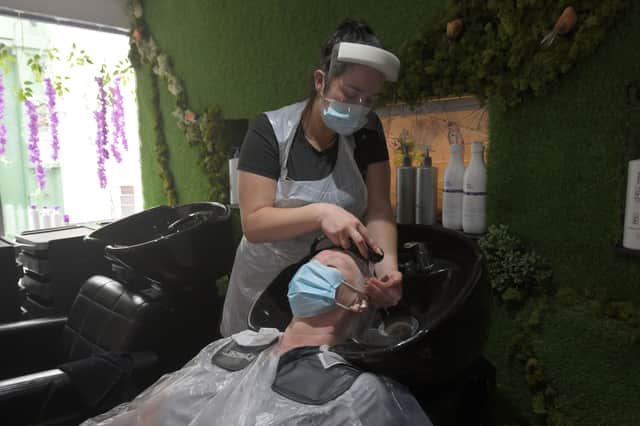 Kate will soon be visiting the hairdressers
It will very soon be time to say hello to hairdresser and farewell to these long locks that are definitely getting greyer by the day.
And I, like so many in the country, am really looking forward to it.
I wasn't quick enough off the mark to get my appointment booked for day one or two of the salon reopening, but by this time next week I'm sure I'll start to feel more like myself once more with a head of hair that's much more in control.
Is it just me that feels as if they are half a stone lighter when they walk out the hairdresser after having the chop?
Here's hoping that with my hair being longer than it usually is when I go and visit the hairdresser, that I'll feel like some of that extra lockdown weight has dropped off too once I step back outside.
A girl can dream can't she?
I'm a little uncertain of how the experience will be, what with all the extra safety measures in place, but I totally understand the need for them.
This week I've only ventured into a shop once with a need to put on my face mask.
It seemed strange at first, but I was getting used to it by the time I got to the checkout.
So I'm sure it won't be an issue for the time I'm sitting in the salon chair - and if it helps keep everyone safe then it's definitely worth doing.
Usually during a trip to get my hair done, I'll have a good natter with the girls in the salon about all sorts of things.
The normal topics for hairdressers come up - you know holidays, the grandkids, what we've been up to since the last appointment.
Let's be honest this time around that's going to be a very short conversation.
No one will have been away on holiday and I've no plans to jet off to the sun anytime soon.
As I mentioned the other week, perhaps a staycation is the way forward this year, but the success of that will all depend on our good old British weather.
Talking about the grandkids - now that's something I always have plenty to talk about - but again, having spent months unable to see them due to Covid-19 there's not as much to say about them either. They've also not been up to much.
At least now though I am able to see them again and give them those huge hugs.
No doubt with their busy appointment books by the time I get to the hairdressers, they will have exhausted all avenues of chat about what their clients have been up to since they last saw each other.
When everyone's been told to stay home and keep themselves to themselves, everyone's been doing the same sort of things - working from home , doing gardening/DIY, doing all those jobs they never normally hve time for, eating too much, going for walks as it was the only way to get out the house and binge watching box sets .
Mind you, perhaps now I've managed to fill this column with talk of what we won't be able to chat about for long, perhaps I'm wrong.
Maybe the conversation will flow as it usually does and before I know it the time will be up and I'll be stepping back out into the street a stone lighter, without the long hair and horrendous roots.
I'm so excited, I cant wait. Bring on that appointment.