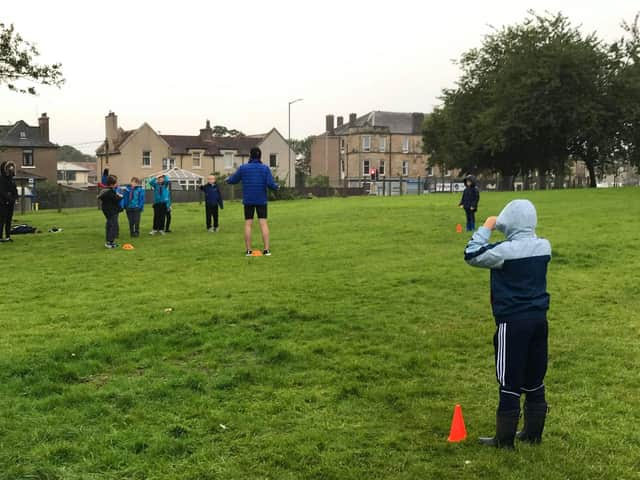 Stenhousemuir Beavers had outdoor fun at the primary school playing field
THE constantly changing Covid-19 restrictions are forcing Scout groups to make changes to their programmes at the last minute.
Within the space of two days the Scout Association had gone from moving to yellow on our traffic light warning system, which has allowed restricted indoor meetings, to a complete reversal and a large question mark over any type of outdoor meeting.
Overall readiness levels in Scotland are set by the Scottish Government.
This is part of the Scottish Route Plan and informed by government guidance provided through YouthLink Scotland and Public Health Scotland. Scouts do not control this.
What it continues to mean is that any risk assessment must comply with the readiness stage based on government guidance.
All groups across Falkirk District will continue to keep all parents, carers and guardians as up to date with the changes as is possible.
Keep watching this space.
BEFORE the latest changes were reintroduced, Beavers from the 89th Stenhousemuir group took the opportunity for a wet night of games at Stenhousemuir Primary school's playing field.
It was organised like a well regimented plan with the children split into two groups and arriving at different times at the hall, where a one way system was in operation.
Beaver Scout leader, Elissa Dick said: "It was great to finally be back tonight and even better seeing all those happy wee faces.
"Even the rain didn't stop the fun.
"Thank you so much to all our parents for helping to make arrival and pick up go smoothly."
The meeting was also an opportunity for the older Beavers to move on to the Cubs after being presented with their bronze Chief Scout award.
PLANS for the district annual general meeting were in place months ago and came to fruition on September 17.
The online Zoom meeting was an opportunity to confirm office-bearers, learn about the achievements of individuals and groups, to discuss the concerns of leaders as they attempt to retain their young members and to hear of the plans for a possible return to regular Scouting in 2021.