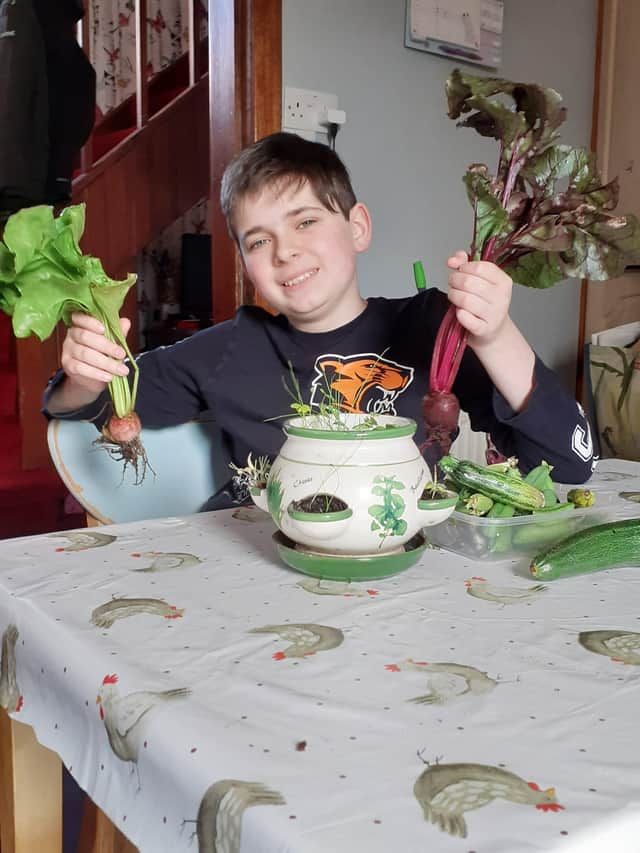 Ruaridh is pictured with a some of his ''harvest''.
Green-fingered Ruaridh Smith proved everything in the garden was rosy when he completed his farming badge.
The 12-year-old Scout from the 40th Forth Valley Group started growing various flowers, fruits and vegetables in the garden when lockdown started.
Flowers included viola, sweet pea and poppies as well as a massive range of wildflowers and veggies such as beetroot and spring onions, marrow, courgette, peas and pepper plants and were grown in the greenhouse.
Ruaridh also planted basil, parsley and chives.
He kept a record of the growth of all the plants and stopped measuring at his first harvest.
Ruaridh, like millions of others from around the world, will spend many hours working towards a variety of badges during his time in Scouts.
The same applies to the younger members in Beavers and Cubs.
Earned badges are divided into Activity, Staged Activity and Challenge for all three sections, as well as the Explorer units.
Activity badges cover a huge range of topics, from athletics to astronomy, martial arts to faith and hobbies to hillwalker. Although all sections have similar badges, they have differing degrees of difficulty.
Staged Activity badges allow a young person to gain whichever badge is appropriate to the level they have reached. It is possible, for example, for a Beaver Scout who is an excellent swimmer to gain a higher level badge than a Scout who has just started swimming.
And by achieving a number of badges and completing certain activities the young members can earn their Challenge badges.
If all Challenge badges are achieved then the Chief Scout award can be gained – bronze for Beavers, silver for Cubs, gold for Scouts and platinum for Explorers although there is slightly more for this last group to do.
Theoretically everything an Explorer, Scout, Cub and Beaver does could be included in their badge work and should be highlighted to their leaders.