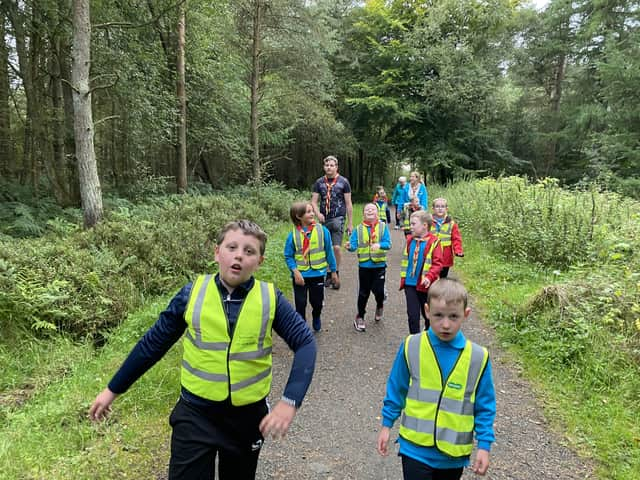 Outoor adventures have recommenced at Barrwood.
A major step forward in the Scouting world for Falkirk District was announced this week.
The Barrwood is opening from Monday, September 14, for limited access.
The wood has been split into three zones to allow up to three groups of 15 each evening or split at the weekend with morning or afternoon visits.
And although lockdown has stopped all visits, work to fix, update, improve and alter parts of the Barrwood has taken place.
Speed bumps have been installed on the top section of the farm road above the middle cattle grid and multiple speed bumps have been put in place on the approach road to the barn.
Bookings for the period up to September 30 went live earlier this week and no bookings will be taken beyond the end of September. Bookings are also restricted to Forth Region Scouts.
Further information, including an updated booking form, is available on: barrwood.frscouts.org.uk.
SCOUT groups across Falkirk District are gradually restarting with socially distant and number restricted face to face meetings.
All three sections at the 51st Dennyloanhead group have had a staggered start with Beavers and Scouts group 1 meeting last week for a walk through Chacefield Wood and this week Cubs and the remaining Scouts are following the same route.
Chris Campbell, Cub Scout leader with the 51st, said: "It's great to be able to meet again outside."
AN appeal has also been launched by leaders from various groups across the district.
Covid-19 risk assessments have been written by leaders and forwarded to all parents who must acknowledge and agree to the terms before their child can take part in any outdoor activities.
One group scout leader said: We are all very keen to get bac to some semblance of regular Scouting but we must make sure everyone is safe.
"We had to draw up the Covid-19 risk assessment to make sure this happens but if parents do not respond to the risk assessment then their child will not be taking part.
"It all comes down to parents doing their bit."