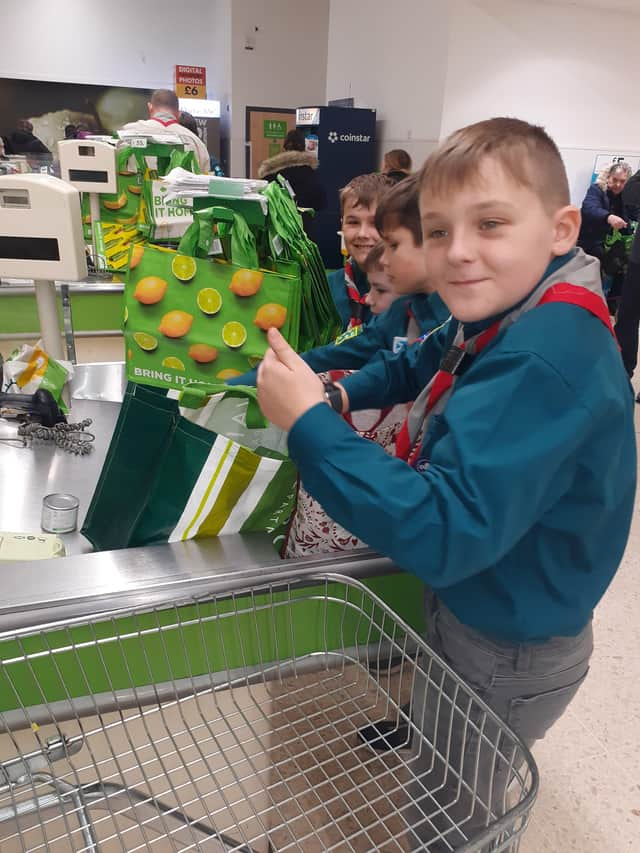 Bag pack raised funds for Bonnybridge Scout group.
Scouts, Cubs and a Beaver took turns with two hour shifts at the Falkirk store to boost their group funds.
The generous donations, which totalled more than £1000, will help the group subsidise activities, camp and equipment as well as covering the cost of annual payments.
Group Scout Leader Helen Smith said: "We had a really great day and it was all thanks to the generous shoppers in Asda as well as Margaret Braidie who organised the visit and her wonderful staff who were very supportive.
"Without their support we would have been hard pressed to raise such a massive amount of money. "Thank you very much."
YOUNG leaders are a major part of many groups across Falkirk District.
Immediately after moving on from their Scout troop they can join one of the sections of their group or decide to move elsewhere.
While they have options with where they choose to be based, they are all required to complete a broad range of training, this includes, ''classroom lessons'' as well as work with the section they are helping.
They learn to manage people, to plan programmes, first aid, safety and safeguarding.
It should be remembered these 14 to 17-year-olds are also either about to start their National 5s, Highers, Advanced Highers, apprenticeship or will be looking to join the jobs market.
The latest group of YLs have already completed a range of modules with the latest taking place in Bonnybridge at the end of the month.
Contact Christopher Campbell for further information about Young Leader training: [email protected]
SCOUTS Scotland is looking for an enthusiastic, all-round fundraiser.
The vacancy will aimed at someone who can support fundraising goals and work with the Scouts Scotland's part-time fundraiser as part of a job-share at the HQ in Dunfermline.
To apply simply download and complete the application form from: https://www.scouts.scot/newsevents/news/job-vacancy-fundraiser/.