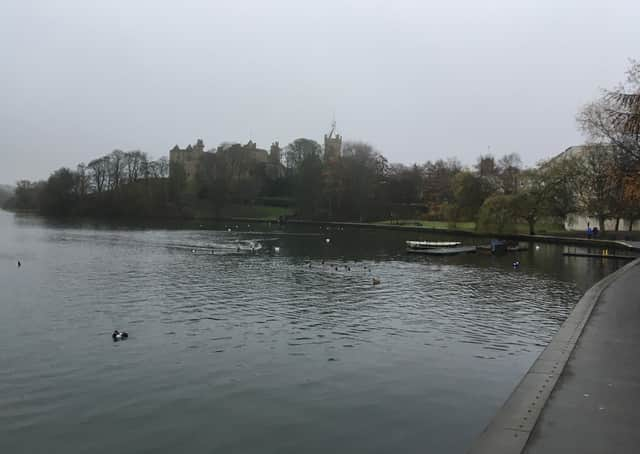 Linlithgow Loch. Photo by Stuart Sommerville.
Linlithgow councillor Tom Conn won that confirmation from officers at West Lothian Council's Executive meeting earlier this week when the committee backed the buy -up of land in the field.
Council officers will use a Compulsory Purchase Order (CPO) to stop another bid for the field, which is currently used for tenanted grazing.
The council made the move as it plans to install a new section of pathway to replace one at the water's edge.
The plans have been controversial from the outset, with many in the town feeling the proposed path is needlessly too wide and an incursion into the open field.
Councillor Conn asked officers at the meeting of the Executive: "Is there a land grab being considered by the council for the rest of Lady Park?"
He was assured by the officer addressing the paper that the CPO only applies to 0.83 of an acre to allow the realignment of the pathway through Lady Park.
Cllr Conn was told that the council has no interest in the rest of Lady Park.
A report to the Executive said: "The council offered statutory compensation for the site as well as offering to construct a new stock-proof fence to the adjusted boundary whilst reimbursing the parties of any legal fees incurred with the acquisition transaction.
"The tenant farmer has registered a formal Pre-emptive Right to Buy Application under the provisions of The Agricultural Holdings (Scotland) Act 2003.
"This gives any agricultural tenant the opportunity to buy the land which they lease should their landlord decide to sell it.
"As a result of that legal position and the possibility of triggering the existing pre-emptive right to buy, the Lady Park Trust are unwilling to voluntarily sell any part of their landholding to the council.
"Under these circumstances, the acquisition of the subjects by agreement is not possible."
The report added: "Undertaking acquisition by way of a Compulsory Purchase Order would overcome these obstacles."
In response to another question from Councillor Conn, Simon Scott an Open Space officer with the council, said the new path would actually protect and enhance local wildlife and habitat along the water's edge through Lady Park.
The council will move to make a CPO of the land next month . Objectors have until April to respond.