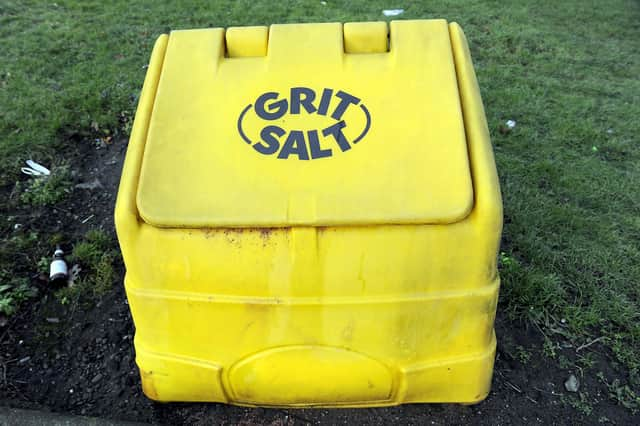 Would you volunteer to be a winter warden?
The aim of the new 'winter wardens' scheme is to give volunteers equipment and advice to help them tackle local paths and streets that council gritters won't reach.
With more than 600 miles of roads and a thousand miles of paths and pavements, Falkirk Council says it simply cannot cover everywhere.
The team stress that they will continue to work round-the-clock to keep priority roads clear.
They begin with around 200 miles of road – about one-third of the entire road network – which is classed as Priority 1 and includes routes to hospitals and near fire, police and ambulance stations.
"We treat on a priority basis – we treat town centres, routes to hospitals, routes to schools – but we just can't get into some of the places that some of our residents would like to see treated," said roads manager Dorothy Reid.
"Once we know our priority routes are safe we will undertake treatment on priority two and three routes, for example spine roads into housing developments and industrial areas."
It's a round-the-clock operation, particularly monitoring the weather in order to respond.
"We have some sophisticated weather stations across our network that give us information on road surface temperature," Ms Reid explained.
Last year they introduced new technology to make gritting more effective, using exactly the right amount for the road conditions.
They also started using an online map showing the real-time location of Falkirk's gritters, such as Gritney Spears and Snowbie Wan Kenobie.
For areas the gritters almost certainly won't reach, there are 1200 grit bins across Falkirk, with an online grit map of their location.
"People have become very responsive to self-helping in their own communities," said Robin Millard, the council's head of roads.
"But we do see that when we are replenishing grit bins they can get depleted in a short space of time and that has to be driven by more than just treating the areas close to bins themselves."
They urge people to use them responsibly and for the benefit of the community as a whole.
Councillor Paul Garner says the Denny volunteers are keen to get started and he is confident the same willingness will be shown in other areas.
The council will provide shovels, high-viz and manual salt spreaders as well as guidance on what to do.
This includes the reality behind the stories about being sued for treating paths – in summary: "It's a myth!"
"We're going to be the guinea pigs in Denny but I've had really positive feedback from the people who're going to do it," said Mr Garner.
He points to a similar scheme already running in Aberdeen which has 27 similar groups up and running.
"The communities there have really bought into it and I'm hoping that will be mirrored here," he said.
"It would be really good if people see this in operation and think 'we could put a group together'."