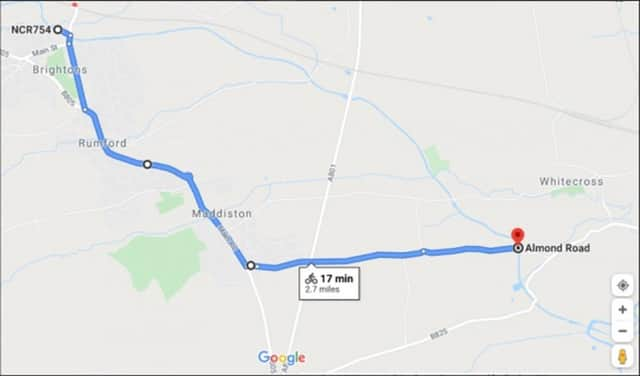 An updated diversion route has been provided for the Union Canal. (Google Maps)
A new towpath diversion is being put in place for walkers and cyclists on the Union Canal and the John Muir Way.
Following the reopening of the canal at the site of a minor embankment slip in the Brightons area, Scottish Canals have reviewed the diversion route which allows users to avoid the section of the canal near Muiravonside where the breach took place on Wednesday, August 12.
Earlier this week, members of the public were advised to use the A803 as an alternative, travelling between Brightons and Linlithgow, but a new safe and accessible route is now being put in place.
In a statement on its website, Scottish Canals said: "Our teams have been working in collaboration with Sustrans, the John Muir Way, Falkirk Council and the appropriate competent access and roads authorities to provide a new towpath diversion following the reopening of the Union Canal at the site of a minor embankment slip in the Brightons area.
"This diversion provides a safe and accessible route to both walkers and cyclists, taking them around the site of the Union Canal breach at Muiravonside.
"This has been assessed as the safest route."
The updated diversion route will see people leaving the canal towpath, and the John Muir Way, at Station Road in Brightons and heading through Rumford and Maddiston.
On leaving the towpath, they are advised to turn right along the lane and right onto B810 Quarry Brae.
At the T-junciton turn left onto B805 Maddiston Road.
Stay on this road until sign for Cairneymount Church and turn left onto Eccles Place.
Follow the public right of way sign for 'High Road to Muiravonside Park'.
Follow Maddiston High Road until it joins Almond Road.
On Almond Road head east following the sign 'Public right of way to Union Canal' as far as the bridge over the canal where you can take the steps down to join the towpath eastbound towards Linlithgow.
The diversion will add less than ten minutes to the journey and crucially it will keep people within the immediate area.
Signposts and other materials will be found along the route from later this week.
Full step by step directions and a map can be found on the Scottish Canals website here