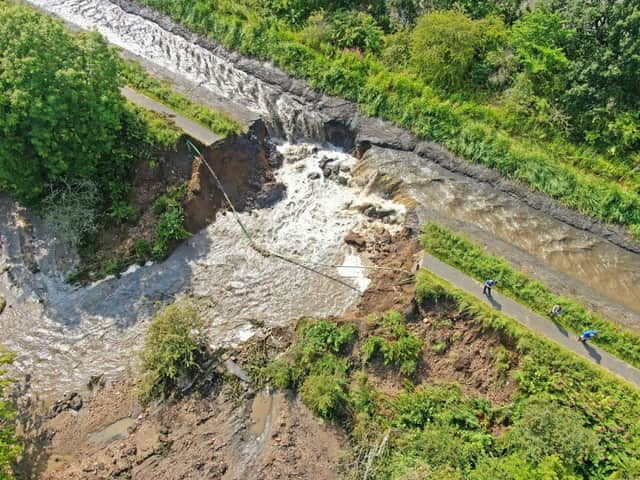 The fish were displaced by the breach in the canal which happened in the early hours of Wednesday, August 12. (Pic: Scottish Canals)
As part of initial works following the breach near the A801 between Polmont and Muiravonside, a massive fish rescue operation has been carried out, saving fish that were displaced in pools of water downstream of the breach.
In less than a week, Scottish Canals and the Forth Rivers Trust have rescued over 11,000 fish, including pike, perch, roach, eel, three spined stickleback and brown trout.
They have been transferred from the pools of water back to the canal.
It was confirmed on Friday that the fish rescue operation is now complete.
Gus Brindle, from the Scottish Federation of Course Angling, said: "Thank you for the efforts of all concerned in the fish rescue and wider mitigation's after this unprecedented incident.
"The SFCA would like to particularly thank the Forth Rivers Trust for the great lengths that they have gone to in order to conduct this rescue and for providing the SFCA with regular updates and details of the fish rescued.
"As someone with an HND in Fishery Management and with experience of Seine netting and electro fishing I am fully aware of the scale and complexity of this task."
The SFCA will be monitoring the areas where the rescued fish have been released and would urge any users of the towpaths in the area to report sightings of any fish in distress to either Gus Brindle on 07812 241816 or by email at [email protected] or to Scottish Canals.
Any further mitigations to the stocking density in the canals will be considered in consultation with Scottish Canals once the physical and environmental restoration works are complete.
The SFCA would like to remind members of the public that the movement of fish between waters in Scotland is illegal without written consent from Scottish Government and risks the transmission of Invasive Non-native Species and disease to the canal.
An updated diversion route for users of the canal has also been put in place this week.
The new route will add less than 10 minutes to the journey and will keep people within the immediate area.
Signposts and other materials can be found along the route, which sees people leave the towpath at Station Road in Brightons and rejoin at Almond Road near Whitecross.
A boat lift operation has also started to ensure boaters are able to reach their destination with minimal disruption.