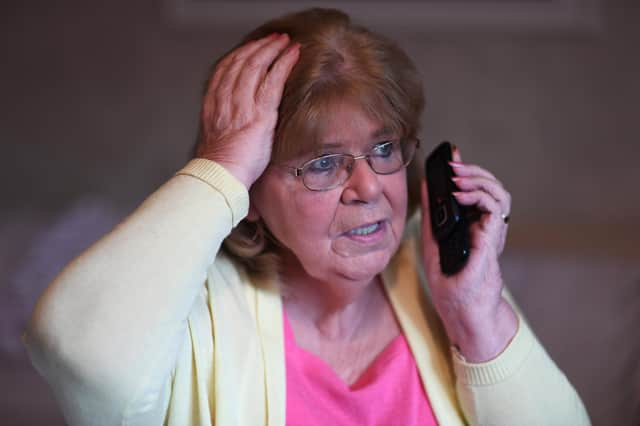 The man calling Mrs S said he was from the bank's fraud team. (pic posed by model)
The scammer told the woman, who asked to be identified as Mrs S, that he was calling from the Bank of Scotland's fraud team and convinced her that someone was trying to access her account.
After a phone call lasting nearly three hours, Mrs S (69) finally transferred £15,000 to her son's account and £7000 to her sister-in-law.
She then gave them details of a new account the scammer said she should move her money to.
But, she says, it was the scammer's detailed knowledge of her account that convinced her he was genuine.
The call, to her landline, appeared to come from the Bank of Scotland's own phone number – the same number that was printed on her bank card.
The fraudster also had details of two purchases she had made that week and was able to tell her about a £16 direct debit she'd made from her current account.
The scammer also knew how much she had in an ISA – information she hadn't even given to her own family.
And he was able to tell her her mother's maiden name as well as the last four digits of her bank card.
Mrs S said: "He didn't ask me anything – he didn't need to!
"He knew everything and was very polite although as I asked more questions he made it sound like it was really urgent."
As she started to panic, Mrs S was persuaded to move the money to the bank accounts of people she trusted – her son and her sister-in-law.
The scammer gave Mrs S details of a new 'safe' account which they moved her money into.
"I felt incredibly stupid when I realised – but I was not careless," said Mrs S.
The scam – known as a push payment scam – earns criminals millions of pounds every year.
Experts say that the fraudsters know exactly how to panic even the most security conscious people into parting with their cash.
Mrs S said: "He told me there was someone trying to use my account in Birmingham Carphone Warehouse."
While the scammer was on the phone, Mrs S's friend tried to phone the bank but he was held in the automated phone system for 40 minutes.
She said: "The man asked why I was calling the bank. He seemed to know everything."
The theft occurred on February 14 and Mrs S is furious that the Bank of Scotland has not answered any of the questions she had about how the criminal knew so much about her account.
She has now written to the ombudsman.
She said: "I have asked the bank to answer my questions about how the scammer knew so much.
"On March 5, I got a letter saying they would be in touch within 20 days.
"That never happened. I eventually contacted the fraud team on April 27 – only to find out my case had been closed on April 3, without anyone telling me."
A Bank of Scotland spokesperson said: "Helping to keep our customers' money safe is our priority and we have a great deal of sympathy for Mrs S and her family as victims of a scam.
"We fully investigate each case individually and having reviewed the details and the complex nature of the fraud we have refunded the full amount lost.
"We have apologised to Mrs S for the delay and arranged a payment of £500 in recognition of this.
"It's important for people to remember that their bank will never contact them out of the blue and ask them to transfer money for security reasons and they should hang up and contact their bank using the number on the back of their card."