Police to run summer anti-drink drive campaign next week as motorists warned of 'morning after' dangers
Police will be running their summer anti-drink drive campaign next week, with motorists across Scotland being reminded that the 'morning after' can be just as dangerous as the night itself.
Thursday, 1st July 2021, 4:45 pm
Updated
Friday, 2nd July 2021, 2:59 pm
Let us know what you think and join the conversation at the bottom of this article.
A recent poll by breathalyser firm AlcoSense also found that 39 percent of respondents found their alcohol consumption had increased during the pandemic.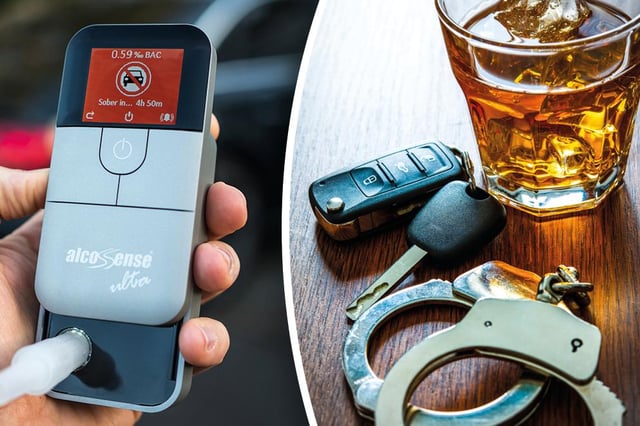 A recent poll by breathalyser firm AlcoSense also found that 39 percent of respondents found their alcohol consumption had increased during the pandemic.
The company said that for adults drinking four pints of medium-strong beer or four large glasses of wine, it can take as long as 14 hours for the alcohol to clear your system.
They also said that 40 percent of all breath tests conducted by police are between 6am and 1pm.
The AlcoSense poll found more than a third of Scots think their ability to drive is only impaired if they exceed the legal drink drive limit, which was lowered in December 2014 from 80mg to 50mg/100ml of blood.
AlcoSense says that with just 10mg of alcohol in your blood - one fifth of the legal limit - drivers are 37 percent more likely to be involved in a fatal crash, according to scientific research.
Hunter Abbott, managing director of AlcoSense, said: "Even a small amount of alcohol slows your reaction time, inhibits judgement and reduces both concentration and coordination - increasing the likelihood of an accident."
However in a study of 1,000 people living in Scotland conducted to mark the fifth anniversary of the law change, 53 percent of motorists claimed to have reduced the amount of alcohol they drink when they know they are driving either later the same day or the following morning.
This study also showed that two thirds of motorists would not drive even after one alcoholic drink, whereas prior to the law change they would have driven after one or two drinks.
Mr Abbott added: "Motorists should either abstain completely or use an accurate personal breathalyser to check they are clear the following morning."
Police Scotland will be running their social media-led campaign on summer drink driving from July 5 to July 11.
Police Scotland's head of road policing, Chief Superintendent Louise Blakelock, said: "With many families opting for a staycation this summer, traffic levels are expected to be higher than in previous years. If you're heading out to socialise over the summer months and intend drinking alcohol, please plan ahead and consider how you will get home safely, whether it's walking, catching the bus, train or arranging a taxi.
"Do not take the risk of getting behind the wheel if you have consumed drugs or alcohol. I would ask friends, family and members of the public who suspect someone of driving under the influence of drink or drugs to have the courage to contact the police and our officers will take action."
A message from the Editor:
Thank you for reading this article. We're more reliant on your support than ever as the shift in consumer habits brought about by coronavirus impacts our advertisers.