Dangers of trespassing on Scotland's railways highlighted in new campaign
A new campaign highlighting the dangers of trespassing on the railways has been launched to help keep young people safe this summer.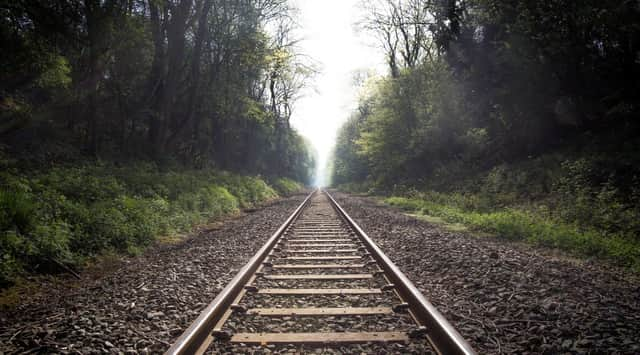 Fearless and Network Rail have launched a campaign warning of the dangers of trespassing on the railways
Fearless – the youth programme of independent charity Crimestoppers – is working in partnership with Network Rail on the campaign.
In 2019/20 there were 735 incidences of trespassing in Scotland – causing over 50,025 minutes of disruption to commuters and costing Network Rail over £1,868,293.
Often incidences of trespassing spike during the summer months, so this timely digital campaign aims to give young people clear facts on the dangers to prevent them from being badly hurt or killed.
Fearless and Network Rail have launched a campaign warning of the dangers of trespassing on the railways
Fearless is encouraging young people to speak up if they know who regularly trespasses – putting their own lives and others at risk - by giving information online, 100 per cent anonymously via fearless.org
Lyndsay McDade, senior youth projects officer for Crimestoppers, said: "Trespassing on the line can be fatal and it's vital that young people know the dangers in order to keep themselves and their friends safe this summer.
"Today we're urging young people to tell our charity WHO regularly trespasses on the tracks and where.
"It only takes two minutes to complete our simple anonymous online form at fearless.org and we guarantee you'll stay 100 per cent anonymous.
"We can't trace IP addresses or any contact details that could identify you. Nobody will ever know the information came from you.
"If you spot someone on the railways tracks – it is an emergency – always call 999."
Mark Henderson, senior community engagement manager with Network Rail said: "We continually strive to make our rail network a safe place for all our passengers and local communities, that's why we're delighted to be working with fearless.org to raise awareness of the dangers of trespassing on the line and other forms of dangerous behaviour.
"This is our second project in partnership with Fearless this year because we believe it's not just important to educate young people about crime and staying safe, but to also empower them with knowledge on how to speak up anonymously."
Inspector Gary Brown, British Transport Police added: "With schools currently closed during what should be the summer holidays, I urge parents to make sure that they know where their children are going.
"Every year we see tragic consequences or life-changing injuries as a result of people trespassing on the railway or taking risks with their safety.
The railway is an incredibly dangerous place and I appeal to young people not to act in a way which will have far-reaching and devastating consequences for both them and their families.
"If you know of anybody who engages in this risk-taking behaviour on the railway network please get in touch with Fearless".