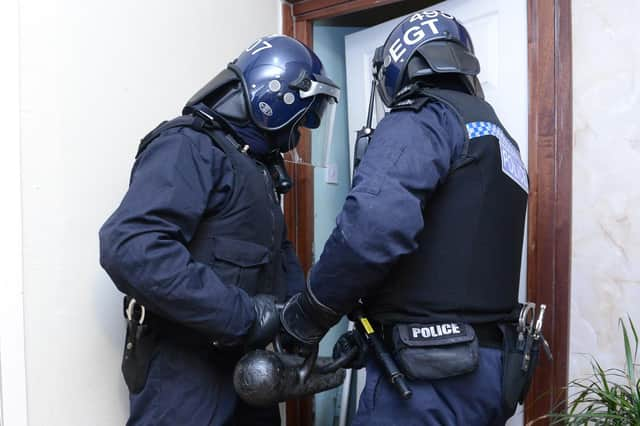 Drugs raid (Pic: TSPL)
Chief Inspector Chris Stewart said that the high number of warrants - a 40 per cent increase on the previous year - shows that working with communities to tackle drug dealing is a priority for them.
"In the main, it is the local community policing teams that are taking the lead on these.
"They are engaging with the community, and developing the intelligence although we do get a lot of support from national officers who have a particular skillset and a lot of expertise."
CI Stewart told members of Falkirk Council's external scrutiny committee: "Local communities repeatedly tell us that addressing the harm caused by drugs and tackling drug dealing is a concern for them.
"It's something we hear a lot from elected members and from the local communities, that their focus is on trying to tackle drugs and the crime and harm associated with that.
"We know that substance use and drug dealing can cause harm in many ways, not only to substance users, but it can have a direct link to other types of criminality including violence.
"Over the past year there has been a real focus locally on working with local communities to develop intelligence associated with drug dealing and targeting drug dealers."
Notable results highlighted in the report were the recovery of £9000 of heroin from Hallglen; £80,000 of cannabis cultivation from Grangemouth; and £4000 of amphetamine from Bainsford.
CI Stewart said that local officers from the Community Policing Teams across Falkirk are regularly supported by colleagues from regional and national specialist policing divisions who bring a range of specialist skill sets and experience.
Another key focus, he said, was disrupting drug dealers by targeting their financial assets.
"Local officers work very closely with our Financial Investigation Unit. In one instance alone they uncovered £40,000 in cash which was being laundered," he told councillors.
However, he added: "It's important to add that enforcement is only one aspect of tackling drugs.
"The police have a key role in reducing the harm associated with drugs and trying to prevent the number of people dying from it."