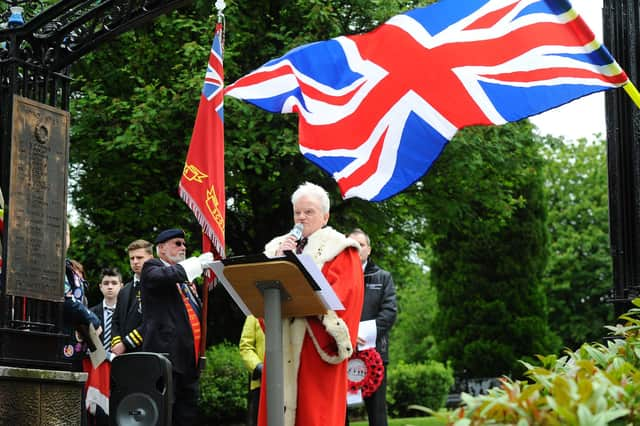 Provost Billy Buchanan is giving Falkirk district residents a chance to win cash by designing a flag for their ward. Picture: Michael Gillen.
Provost Billy Buchanan has organised the design competition to give those who live in the region a chance to show off their creativity during the coronavirus lockdown.
The winners from each ward will have their flag put on public display in the Municipal Buildings, Falkirk for a month following the ending of Covid-19 lockdown restrictions and an overall winner will then be chosen by local historian Ian Scott and receive £100 in prize money.
The areas are: Ward 1 (Bo'ness and Blackness); Ward 2 (Grangemouth); Ward 3 (Denny and Banknock); Ward 4 (Carse, Kinnaird and Tryst); Ward 5 (Bonnybridge and Larbert); Ward 6 (Falkirk North); Ward 7 (Falkirk South); Ward 8 (Lower Braes); and Ward 9 (Upper Braes).
Provost Buchanan said: "This is a competition open to anyone and is really for a bit of fun to beat the lockdown blues.
"We really want to see something that captures the real essence of your community but doesn't need to be overly complicated.
"It's open to all ages and experiences and we look forward to seeing the designs turned into actual flags to be placed on public display after the Covid-19 situation has passed.
"Entries are open now and we really look forward to seeing what our creative communities can come up with."
The subject line should read 'Lockdown Flag Competition'. You must be a resident in the ward you enter for.
Flags will be returned to competition winners following their display.
The competition closes on June 30 and it is hoped to have winners chosen in the following month.