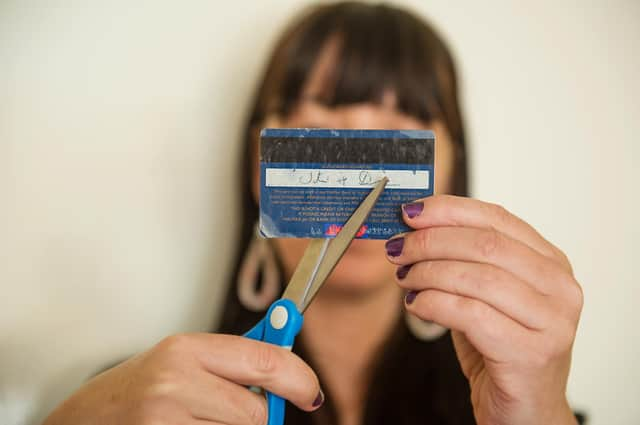 Pic: John Devlin
A team of expert advisers in Falkirk Council can help - and anyone who has debt that's causing them anxiety is urged to get in touch sooner rather than later.
The service has a formidable track record.
Last year, it helped 745 clients with an overall total debt of well over £5 million. It also prevented 60 evictions from going ahead.
It knows that debt is an issue that can affect anyone at any time - and Kenny Bowie, senior debt advice officer, fully expects the team to be even busier this year as we continue to life life under lockdown restrictions.
"We have seen rising unemployment since October and while I do think things will improve with the vaccines, a lot of the damage has already been done," he said.
But the service, established in 1989, has been adapting to face the new challenges.
In November, a new video conferencing system went live, enabling them to have face-to-face conversations with clients.
The system, similar to one used by the NHS, is completely secure and confidential.
Being face-to-face is crucial, says Kenny.
"Debt is such a personal and sensitive thing - there's a lot of stigma and it's vital to build a relationship and trust," he said.
"People end up burying their heads in the sand but that's the worst thing you can do."
Ignoring debt will simply make the problem bigger and a solution harder to find.
He hopes the new technology might even encourage people who were previously reluctant to visit an office or have an adviser in their house to get in touch.
Some people are wary of approaching a council team - particularly if they have debts owed to the council.
"People have the misconception that you're going to discuss things with other departments without their knowledge," said Kenny.
"But that isn't the case at all - we would only pass on information if our client asked us to."
But while they won't go over anyone's head, they do have access lots of people who can offer help; from housing and welfare benefits to social work and other organisations.
It's not always quick or easy but gradually the best solutions are found.
For someone at rock bottom, that may mean finding charitable support, including foodbanks.
"We're starting to see a lot more people who you'd class as being in poverty - we're doing a lot more foodbank referrals, referrals to charitable organisations, getting people help with energy bills and that sort of thing," explained Kenny.
For others, it means patiently looking at how to maximise their income and reduce their outgoings to get back on an even keel.
For some, it might mean the drastic step of bankruptcy, although that is very much a last resort.
"Debt advice does not just a one-off appointment - it can mean a whole number of appointments and it can be quite some time before we'll reach a successful conclusion," said Kenny.
"No two situations are ever exactly the same."
The advisers have had to keep up-to-date with fast-moving legislation and during the pandemic some of the criteria applied to those seeking help have been loosened.
That's another good reason for people to seek help as quickly as possible.
"We really need to try and reach people before it becomes and unmanageable situation," said Kenny.
Advisers can be juggling 50 or 60 cases at time via emails, phone calls and meeting - and they can be under huge pressure, trying to help desperate people facing unbelievable stress.
"When people come to us they are at their lowest ebb - our job is to bring them back up again and get that confidence back and to give them a fresh start," said Kenny.
"And the results the team get speak volumes for their success.
"We hope we can get people back on their feet and give them the financial resilience to get to a situation where repayments are sustainable and manageable.
"In the nicest possible way, you're hoping that you don't see them again - I'm hoping we've given them the tools to manage better."
For anyone, the turn of the year is a good time to look at your finances and start planning ahead.
"I know that might be difficult for some people because of the uncertainty - but if you've got any debts that are causing you worry - and debt does bring about anxiety and pressure - I would strongly advise people to contact us," said Kenny.
The team will respond within 48 hours - or quicker in an emergency - and then set up an appointment.
"Even if we can't see you as quickly as we'd like, we can still give you information and put you in contact with others, depending on your circumstances."
Kenny is proud of the way his team have provided a service throughout the pandemic, amid the challenge of working from home.
"Some of the stuff they're dealing with is difficult, heartbreaking stuff and they don't have that escape now of leaving the office and going home." he said.
"They've had to adapt and get used to new systems but they've been excellent - and I'd like to think our clients have never noticed.
"I dare say the year ahead will provide new challenges but we'll adapt and make sure we're doing the right things for our clients."
For further niformation, please contact 01324 506735 or send an email to [email protected]
Thank you for reading this article on our free-to-read website. We're more reliant on your support than ever as the shift in consumer habits brought about by Coronavirus impacts our advertisers.
Please consider purchasing a subscription to our print newspaper to help fund our trusted, fact-checked journalism.