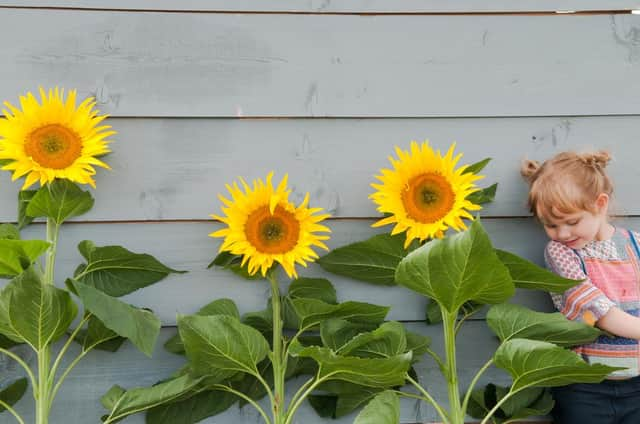 The sunflower growing competition will be judged on September 4.
Sponsored by Woodside Nursery, Larbert there will be vouchers up for grabs for all the winning entries.
Organisers hope that not only will people enjoy the mental health and wellbeing boosts of gardening, but that schools and nurseries take part to foster gardening fun and a sense of community with the younger age group.
The gardening competition is the latest brainchild of the KLSB Community Group (formerly Keeping Larbert and Stenhousemuir Beautiful), which was launched by John and Sheona Mcmorran in March 2019, and started life as a litter-picking group of like-minded locals.
Organisers hope that people will enjoy the mental health and wellbeing boosts of gardening.
That first project saw 40 volunteers collecting over 50 bags of rubbish, brightening up Corrie Park in Stenhousemuir. Soon the volunteers were asked to take on the role of planting and maintaining the many flower beds in the area, helping to keep the towns looking beautiful.
But it rebranded when it branched out into other community work, including establishing a community food pantry, which helped support over 30 families a week. During the first lockdown the pantry, extended its services to support over 180 local families every week.
The community food pantry has now blended to include a foodbank model, and takes referrals from Falkirk Council, local schools, church groups, homeless charities and other agencies, where they follow the Scottish Governments, Dignity, Ending Hunger Together in Scotland Policy. The community pantry is at 17 King Street, Stenhousemuir, and there are new premises at 38 King Street, where the group hope to bring a Men's Shed and other groups to the area soon.
The KLSB gardening competition is a fun event for anyone living in four districts in the area. Region one covers Larbert and Stenhousemuir, region two Kinnaird Village, the Inches and Torwood, region three Carron, Carronshore and Skinflats and region four, Airth, Letham and South Alloa.
This is more than your ordinary gardening competition, with categories to suit everyone, including:
Most improved garden Best community garden Best environmentally friendly garden Best contained garden Best children's garden Sunflower growing competition Best garden
There will be a regional winner for each category, and each category winner will be in the running to become the overall winner.
Entry is free and easy … simply click here to register your entry.
Judging will take place* over the weekend of July 3 and 4, with the regional winners being announced on Saturday, July 17. The overall winners will be revealed on July 31.
The sunflower growing competition will be judged on September 4, with the winner being announced on September 11.
Each child that enters the sunflower growing competition and children's garden will receive a certificate, and each school and nursery group that enters these categories will also receive a certificate.
Winners in each of the adult categories will receive vouchers which can be used to buy products from the competition sponsor, Woodside Nursery, who have a shop at Bainsford cross, or online at www.woodsidenurserylarbert.co.uk. You can find Woodside Nursery on Facebook here, or call 01324 610925 for friendly and helpful advice.
*Dates may be subject to change