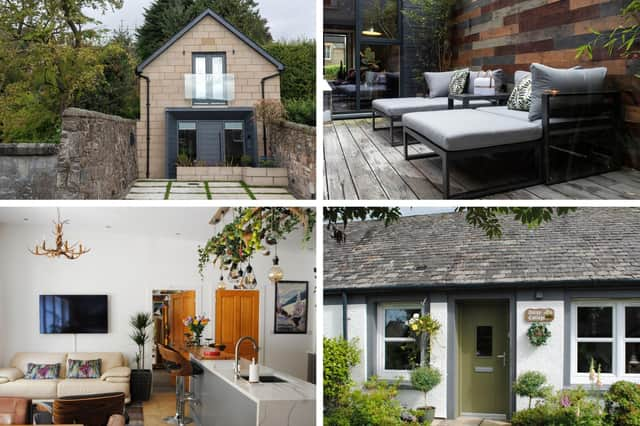 Inside the two Forth Valley properties featured on the latest series of BBC show Scotland's Home of the Year
Two Forth Valley properties are among those vying to be named Scotland's Home of the Year 2023.
Published 30th May 2023, 12:32 GMT
Updated 30th May 2023, 13:44 GMT
The Skinny House in Bridge of Allan and Daisy Cottage in Dunblane feature in the third episode of the popular BBC series which was shown on Monday night.
The show sees interior designer Anna Campbell Jones, architect and lecturer Michael Angus and guest judge Banjo Beale – winner of the BBC's Interior Design Masters – search for outstanding homes across Scotland. The judges visit three properties in each episode and must score them on architectural merit, distinctive design and original style to decide which one will make it to the competition's finale.
While looking at properties in the Central region, they visit Bridge of Allan where a unique new build called Skinny House is home to Austin and his partner Hayley. Formerly a spot of waste ground only four and a half metres wide, Skinny House was designed by Austin's architect dad. This elongated home is compact with excellent views of the surrounding area and two external courtyards.
The trio of judges also pay a visit to Dunblane during the episode to view Daisy Cottage, the home of Laura, David and their three cats Beebee, Belle and Patchy.
The picture perfect traditional cottage dates from 1784 and has been in Laura's family for decades. It embraces 'one level' living as her father was disabled. The house is accessible for all and includes a library come study, a terraced back garden and a little art gallery. Laura displays her art creations in Daisy Cottage's 'Loovre' – the bathroom.
The two properties in Forth Valley are up against The Old Manse in Auchterarder in the Central region heat.
We'll not spoil the surprise of which property impressed the judges most and made it through to the final as the contender from Central. Catch up on the episode featuring the local properties on BBC iPlayer.
Meanwhile, homeowners are being invited to apply to take part in the sixth series of Scotland's Home of the Year. From bijou properties to grand conversions, tradition to modern, city dwellings to rural havens, the next series will search for outstanding homes which embody design, style and amazing architecture.
For details on how to apply visit www.bbc.co.uk/shoty