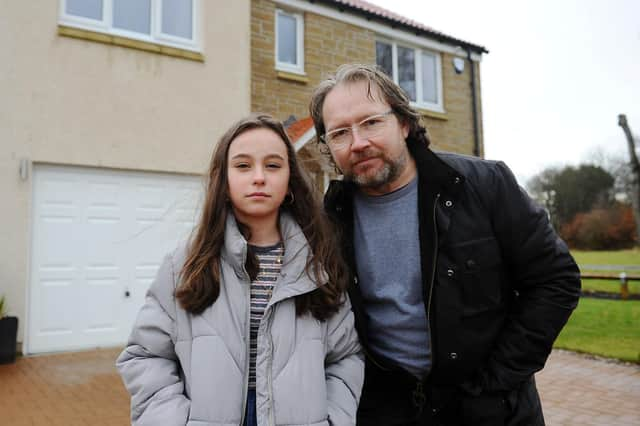 Harry Norrie and daughter Eva Norrie at their home in Carron Park (Picture: Michael Gillen)
Harry Norrie, 49, who has lived for two years in his five bedroom home in Carron Park with his partner, and their 11 year-old daughter, said that property issues were there from day one.
They include flooding, poor finishing and incorrect wiring which he believes is down to 'poor workmanship' and 'unprofessional customer services.'
Harry said: "The amount of issues that you get with a Persimmon house - the poor workmanship, flooding, poor finishing, holes everywhere- it's just never-ending."
Homeowner Harry Norrie is unhappy with developer, Persimmon, and the problems he has had with his property (Picture: Michael Gillen)
"From the very first day we moved in we couldn't lock the front door because it hadn't been aligned properly and we've had issues with wiring – there were so many things that followed after that."
"We just don't need this stress.
"My wife works 14-hour days with the NHS, and when she comes back, I go off to my shift, and we are looking after our child.
"We just wanted a well-finished house which this is not."
Since the Norrie family moved in, they have had the home completely re-rendered with their driveway lifted to prevent flooding due to incorrect ground levels causing rain water from next door to drain onto the Norrie's property.
They say they are still facing problems with their driveway as Mr Norrie said it is currently 'collapsing.'
Mr Norrie said he has also had to pay £1500 to a private company to put drainage and astro-turf in his back garden due to severe flooding.
"If you stepped on it, it was just mud," he said. "Grass was never going to grow in it- it was just awful."
The family also do not have access to Fibre broadband which he blames on thee company blocking ducts where thee cable needs to be pulled through.
"The providers are going to have to dig up a shared access driveway and my neighbour obviously doesn't want the disruption." Mr Norrie said.
Mr Norrie said that since complaining, the house-building company has been ignoring him.
He said: "Persimmon's answer to problems is to ignore you and hope you go away which I'm not going to as I don't want to be paying thousands of £s down the line to fix something that they created."
He added: "Everyone's got the same issues- my next door neighbour had to get his roof completely retiled last week and someone's render at the back of their house is completely cracked."
"They are just ignoring it as they know it will cost hundreds of thousands of £s to put right."
Mr Norrie is arranging an appointment with a private company to assess the issues with the house and others which will cost him around £400-500 as Persimmon are not acknowledging his complaints.
A spokesman for Persimmon Homes East Scotland said: "As with all our customers we will ensure all works agreed as outstanding are completed.
"We treat all complaints seriously and will investigate fully and take the appropriate action."
Thank you for reading this article on our free-to-read website. We're more reliant on your support than ever as the shift in consumer habits brought about by coronavirus impacts our advertisers.