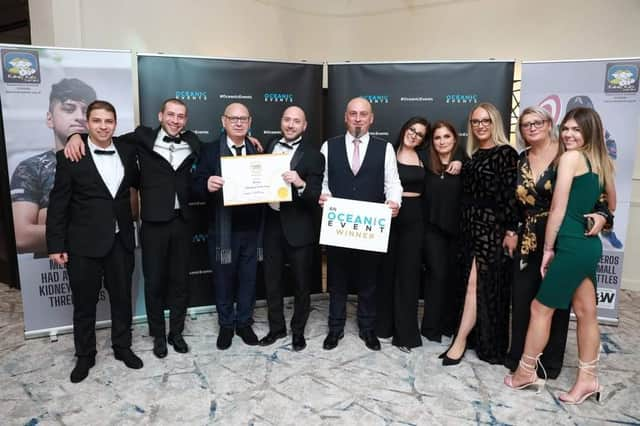 This Falkirk takeaway is officially brilliant, plus there's 10% off when you order online
The Williamson Street takeaway was named Takeaway of the Year for Central Scotland at the prestigious Food Awards Scotland 2021.
Just hours earlier, Giulio's was singled out for high praise at the prestigious 8th Scottish Italian Awards.
The double whammy of awards delighted staff at the popular takeaway. Boss Michael Di Raimo said: "I really can't thank our customers enough for all their support.
"It's fantastic to know they really appreciate our food and service."
The Scottish Italian Awards, regarded as the 'Oscars' of the Italian restaurant and dining scene in Scotland, were handed out at a glitzy ceremony in Glasgow by celebrity judge and chef Aldo Zilli.
Guilio's was singled out as 'highly recommended' in the category for Scotland's best fish and chips takeaway.
It was one of just five chippies from across the whole country to be selected for that category – making it a significant achievement for the Falkirk business.
Giulio's award as Takeaway of the Year Central at the highly respected Food Awards Scotland 2021 saw the Falkirk team beat off hundreds of venues from right across Central Scotland.
Giulio's has become a favourite takeaway in Falkirk since it opened five years ago and is known for its extensive menu spanning chip shop favourites plus delicious Italian pizzas and pastas, inventive omelettes, tasty kebabs, curries, succulent steaks and burgers.
There are also lots of sides and sauces to choose from, exciting meal deals, a great kids' menu and, for afters, ice cream.
Michael, whose family come from the Cassino area of Italy, added: "We work as a team – everyone at Giulio's works really hard to give 100% to what we do every single day.
"These awards are the result of five years of sacrifice, hard work and making sure we give our customers what they want."
He paid tribute to his family and Mattia Simeone's family for their support over the years, which he said had been so important to him.
The awards come after a tough year for the hospitality trade that has been packed with uncertainty.
However, staff at Giulio's have worked right through, safely delivering dishes to homes across the district.
Michael added: "With everyone at home and pubs and restaurants closed, we were here around the clock. I can't praise my team enough for all their hard work."
Although Giulio's has one of the most diverse takeaway menus around, deciding what to have is made easy by ordering through the app or online.
Plus, order from the app or on Giulio's website, and there's 10% off the bill.
Want to try Giulio's award-winning takeaway menu, enjoy 10% off your bill AND fast delivery right to your door? Just download the app or order online at www.GiuliosOnline.co.uk