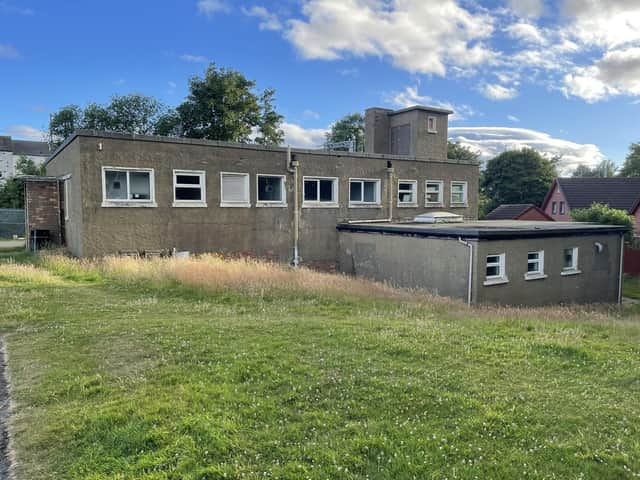 Old rugby club changing rooms will become a multi-purpose facility boosting sports provision, health and wellbeing for all
The club's aim is to transform the dilapidated and underutilised Sunnyside changing pavilion into an inclusive, multi-purpose community facility, boosting not only rugby in the Falkirk are, but other sports and health and wellbeing in general.
A fundraising event has been planned for August 7 and to celebrate the 50th anniversary in October there will be a special dinner at Grangemouth Town Hall.
Falkirk Rugby Club has ambitions plans for its 50th year
The Sunnyside Pavilion was the wash house for the iron foundry which used to be located on the site where Falkirk RFC now play. It is run-down, barely used other than on a Saturday and entirely unchanged in the 50 years since it started to be used as changing rooms.
It is owned by Falkirk Council, who do their best to keep it going, but just don't have the money to bring it up to scratch. Now, in the 50th year, Falkirk RFC wants to take on responsibility for operating the building as a community run asset on a not-for-profit basis.
The club aims to raise around £500k, mostly from grant funding, to transform it into an attractive, modern hub for local clubs and organisations, providing them with access to a new physio suite, flexible teaching area, expanded gym and fit-for-purpose changing and showering facilities.
But more than that the aim is to use the hub to deliver a variety of sport, health and wellbeing focused programmes, addressing high-priority local needs with partner organisations.
The club's aim is to transform the dilapidated and underutilised Sunnyside changing pavilion into an inclusive, multi-purpose community facility
For RBS RugbyForce day 2022, the club is inviting all members and their friends and families to join them on an all-Club sponsored walk to the Kelpies and back to raise funds for the renovation and extension of the pavilion.
Before setting off at 2pm, those who have not had the "pleasure" of using the facility in its current guise, can have a look around to see just how badly it needs the modernisation we're proposing – and have the chance to look at the new design.
Mark Crawford, Vice President, Falkirk RFC, said: "This project has been in the planning stage for nearly three years now and so it's really exciting seeing it come closer to becoming reality.
"We're very excited about the possibilities that transforming the Sunnyside Pavilion will create for girls' and women's rugby in particular, but also for Falkirk hosting events for the SRU, such as inter regional fixtures and maybe even age grade internationals.
"And we're just as excited about the opportunities we'll be able to give to other sports clubs in the area and about us working in partnership with local third sector organisations to run health and wellbeing programmes in an area where they are badly needed.
"You'll often hear people in rugby talking about the sport's values and we're doing our best to live them. We won a diversity and inclusion award last year from the SRU and we're really keen to kick on from the great foundations that we've already got in place. Our grant funding applications are progressing well and we hope to have most of the funding package in place by the autumn, so we just need a little with our own fundraising to help get us over the line."
Why not book your event at the club to help boost funds – there's a refurbished bar which is available to hire. Or you could contribute via the online fundraising page – follow the link here
To find out more visit the club's website here