Texaco Cup was fuel to Falkirk's fire
Coventry City were a top English First Division side when Falkirk were paired with them in the Texaco Cup back in 1971 and it gave us all a chance to see what we could do against one of the leading clubs down South.
Thursday, 28th May 2020, 12:30 pm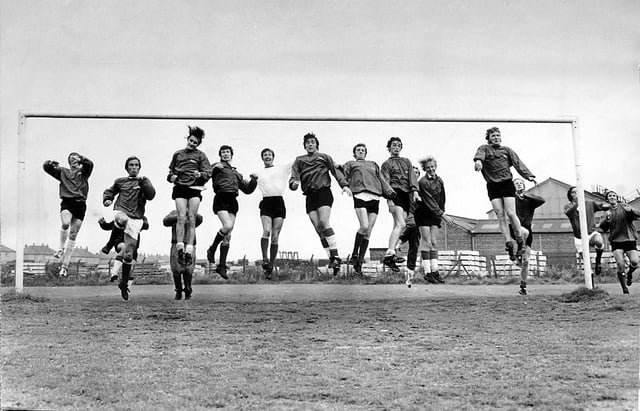 14 SEP 1971 Packing their goal but that's not how high-flying Falkirk aim to play it when they line up against English First Division side Coventry in the Texaco Cup tie at Brockville tomorrow. The Bairns' policy - all out attack. Bleachfield Training Ground Falkirk.
The 1971/72 competition saw Airdrie, Dundee United, Falkirk, Hearts, Morton and Motherwell join Coventry, Derby, Huddersfield, Manchester City, Newcastle and Stoke in the tournament. The Irish teams were Ballymena and Coleraine from the North and Shamrock Rovers and Waterford from the Republic.
Falkirk had had a great season in 1970/71, finishing seventh in an eighteen-team top flight to qualify for the tournament, and had just beaten Hibs 2-0 in a League Cup quarter-final first leg tie.
Star striker Alex Ferguson had withdrawn a transfer request and signed a new contract.
Manager Willie Cunningham had turned down the Scotland job to stay at Brockville and had done well in the transfer market, blending youth and experience.
Coventry would be a stern test and their budget was massively bigger than that of Falkirk's. Falkirk had only twelve full-time players while the Highfield Road side had enough players to field three teams of a good standard. Off the park, they had a reputation for innovation, developed during the chairmanship of the mercurial Jimmy Hill.
By a strange turn of fate, I was working down in England at the time - in Coventry. The home leg was my challenge and I managed to swap rotas to enable an "escape" early in the morning to head north. The anticipation was great, and I was just able to spend a few hours visiting my parents before heading to Brockville.
The place was bouncing, and the tight little ground must have proved quite challenging to the big-spending visitors who were more used to playing at grounds like Old Trafford, Anfield, Highbury and St.James Park.
The autograph hunters were out in force at the back of the stand to get the signatures of the likes of Jeff Blockley, Willie Carr, Ernie Hunt and Chris Chilton and by the time referee Mullen blew for the kick-off the noise was deafening. Conditions were slippery underfoot and the steady drizzle meant the crowd was around the 10,000 mark.
The game ended 1-0 to Falkirk with Dennis Setterington getting the only goal of the game in the 21st minute.
Falkirk had played really well, but we all wondered if one goal would be enough. But that was for another day.
I headed off to find the car and faced a long, long drive back down to the Midlands. I reckoned it was about 320 miles and the road system was vastly different from that today.
There was no car radio for company and with a supply of crisps and cans of drink I faced a long trek to be back at work for 9am.
Having progressed through to the League Cup semi-finals after holding Hibs to a single goal margin of defeat at Easter Road, Falkirk were in good spirits for the second leg at Highfield Road on September 28. I was able to have a much more relaxed journey this time and drove a mere couple of miles from my work to the ground.
The match "programme" was amazing- more like a glossy magazine- and certainly knocked anything we had seen in Scotland into a cocked hat.
I thought there might have been a dozen or so Bairns fans behind the goal on the terracing but was amazed to see the size of the support. They had come from all over England as well as a sizeable contingent from Falkirk itself.
There were easily 500 there and the pre-match mood was a mixture of fear, trepidation and hope.
I can honestly say that it was a game when the team did us proud and gave a brave performance of guts and resistance against a much bigger team despite the eventual 3-0 defeat.
It was only in extra time that the superior fitness of the full-time side told, and George Miller gave his greatest display as a Falkirk player. He gave his all – and in the process, may have shortened his career as a player.
He had the £90,000 signing Chris Chilton well under control and the big striker saw little of the ball apart from his opening goal in the 19th minute.
After 108 minutes of great cup-tie football, the scores were level at 1-1 on aggregate. This was achieved by poor finishing by The Sky Blues, an element of luck on Falkirk's side and inspired goalkeeping by Stuart Rennie. Certainly, Coventry deserved to go through over the piece, but some home fans dreaded the game going on to a penalty shoot-out.
The local paper again moaned about some of the Falkirk tackling, notably the attention given to Quinton Young by Jim Shirra.
Referee Tinkler booked five players, including Shirra, Markie and Young, but it was never a dirty game.
Falkirk were floored by the late goals from Hunt and Mortimer, the latter with only two minutes left for play.
The clock was showing 10pm by the time the final whistle went.
Was I glad that I would be home within twenty minutes? Colin Mailer was the Falkirk Herald reporter at the game and said Falkirk had few chances, although Markie had the ball in the net only to be deemed offside and Ferguson had a half chance with a pass-back that was too short.
Maybe the three games in a week programme was starting to take its toll, especially on part-time players, but you would go far to see a braver performance.
Everyone at the game was proud to be a Bairn.